Enhancing Architecture: The Beauty is in the Details
By Guest Blogger Julie Zhang, Professional Studio Intern
I can't believe it's already week nine out of my 10-week architectural internship. The days pass like a bullet train, with all of the excitement and bewilderment that come along with it. I find myself eager to get to work in the morning, eager to finish the project that I'm working on, and eager to see it grow. I anticipate the lessons that await me and the things I'll learn; I am often surprised. I expected to improve on skills in modeling, technical drawing, and blueprint reading. What I didn't expect, was the exposure to all sectors of the building design process.
One of the first assignments handed to me was to create a fire safety egress plan, along with calculations. Now, I'll never forget how they work. Soon after, I was taken to a site for a punch walk. Now, I understand how details come together in real life and what it takes to build something one brick at a time. Next, I helped the K-12 school interior designers work on material boards and design a set of wall graphics.
Now I see how it's not about placing furniture and matching colors, it's about enhancing the architecture and guiding people's experiences.
I don't know how I got the chance to go fishing in all of these different lakes, but I wouldn't have it any other way. My project manager told me that I get the most out of my time here because I ask the right questions. At the same time, the more I discover, the more I realize how much I still need to learn.
It's not necessarily the technical skills learned, but the everyday experiences that have made this journey memorable. My internship here has taught me about what it means to be a part of LPA. The company is full of smart, hardworking people—and what the firm does especially well is tap into each person's arsenal of specialty skills. These talents, quirks, and passions are cultured in this supportive, collaborative environment in ways that help each individual, and help the company too.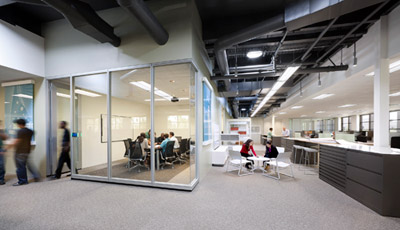 Everything from the open cubicle plan to the integrated design principles used on each project, make it easy for individuals to excel. Maybe, working with schools brings out a certain passion and dedication. The helpful and approachable nature of my co-workers is contagious. I grew to be a better communicator as well. The ample resources and easy navigation of LPA's intranet gave me guidance on Leadership in Energy and Environmental Design (LEED), Photovoltaic (PV) panel calculations, budgeting, and tricks for Revit. With all of this sharing of information, the company really works as one.
LPA is forward-thinking, innovative, and thirsty for knowledge. The amount of information I've gained amplifies with each day that I spend here. The exposure I've been given with new technology and building systems alone is enough to write a separate post. From here, I see that I have become a better designer. I see buildings as entities at work; each element supports the others in a matrix of design and functionality. Even before pen is put to trace paper, designs are thought wholly—with structure and mechanical systems, sustainability, landscape architecture, and interiors, all in one. At LPA, the beauty is truly in the details.
For more information about the LPA-Cal Poly San Luis Obispo Professional Studio Program, e-mail dgilmore[at]lpainc[dot]com. Image caption: LPA-Cal Poly Professional Studio Interns Jake Belinski, Michelle Loeb, and Julie Zhang.