San Diego Architecture Firm Thrives in East Village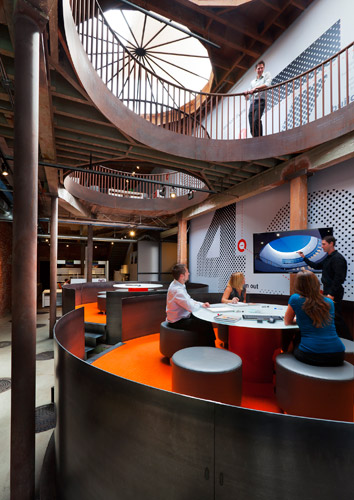 It's been a little under a year since we relocated our San Diego LPA office, to a larger, cooler, more inspired facility for our architects, planners, interior designers, engineers, and landscape architects, working out of the city. Housed at the center of the historic Wonder Bread building—established, circa 1924—the studio takes a "do-less" approach, leaving brick walls, wood flooring, and other parts of the structure exposed. A two-story, 5,000-square foot office, the space features a sliding glass door and operable windows on the second floor. On most days LPA employees take advantage of natural ventilation and San Diego's mild climate to keep the office comfortable.
Perhaps the most talked about design elements are the converted, former grain silos—now, "collaboration pods," suitable for team and client meetings. Other LPA improvements include use of furniture systems and demountable storage systems that can be reconfigured as the needs of the office expand and change. What's it like to work in such a unique space? We've asked project coordinator Kirsten Adair, to share. May you enjoy this short Q&A, and be inspired to visit us, next time you're in San Diego's eclectic East Village.
Kirsten Adair, Architect, LEED AP BD+C
Q. For someone who's never visited LPA in San Diego, what can they expect when they visit the office and the city?
A. The best part of LPA San Diego has got to be its location. We are in East Village, a very design-minded neighborhood close to Petco Park and downtown's historic, Gaslamp District. You can really feel the pulse of the city from here. Being in the Wonder Bread building also gives us a sense of connection to the history of this city. It's inspiring to work in an office that is so well integrated into the community.
Q. What's unique about the way LPA is servicing clients in San Diego?
A. What is unique about the way LPA is servicing clients in San Diego? I think that's your answer: a complete focus on our clients. I have been working in the architecture field for 10 years now and it's clear to me that LPA goes above and beyond for clients.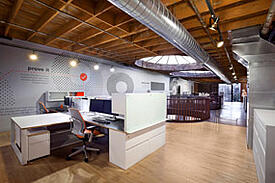 I've been amazed by the number of client meetings and design reviews—LPA really takes the time to make sure the product we create, meets the client's needs and expectations.
Q. Where are you spending your time these days? Can you tell us more about this project?
A. The majority of my time right now is spent working on Downtown Charter High—a project-based learning high school going in on the 6th and 7th floors of the new, San Diego Central Library. It is truly a one-of-a-kind high school, in a library, in an urban environment. The school is also anticipated to be LEED Silver. Overachiever? You bet! I come in every day excited to work on such an innovative high school.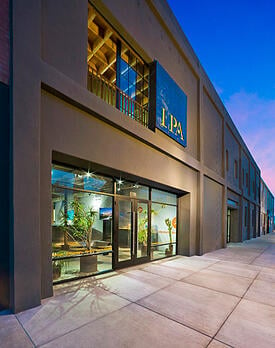 Cool fact: I can actually see the Central Library construction from my desk; it's only a couple of blocks away. Not often do we get the opportunity to work on plans at our desk while simultaneously seeing the project in real life.
Q. On a personal level, what do enjoy most about working in the San Diego office?
A. As you can probably tell, what I love most about the office is its proximity to the heart of downtown San Diego. I've opted to live downtown as well. Being able to walk to work every day is a benefit not many people get to enjoy. Having my home, office and project location—Downtown Charter High—all within a quarter-mile of each other is unbeatable!
Q. Anything else, you were dying to share?
A. The next time you're in America's Finest City, stop by the office. We're up to a lot of cool stuff over here.
Kirsten Adair is an architect and project coordinator who designs K-12 Schools at California-based LPA Inc. She is a LEED accredited professional and active member of the U.S. Green Building Council.