Higher Education Architecture: Living Rec Centers Part 2
In the first post of this Higher Education Architecture series, we talked about the many ways the Rec Center at Cal State East Bay incorporates queues from nature in its architectural design. For this next post, we're going to switch gears and highlight a different student-funded recreation center, the Student Recreation Center at California State University (CSU) Northridge—recently finished, and open to students, faculty, and alumni.
A whopping 120,000 square feet, the center is one of the largest buildings—and certainly the most eye-catching, on campus. Inside, exercisers will find two outdoor pools, basketball, volleyball and badminton courts, a comprehensive weight-training and fitness zone, jogging track, and a 40-foot rock climbing wall (the tallest of any in the CSU system).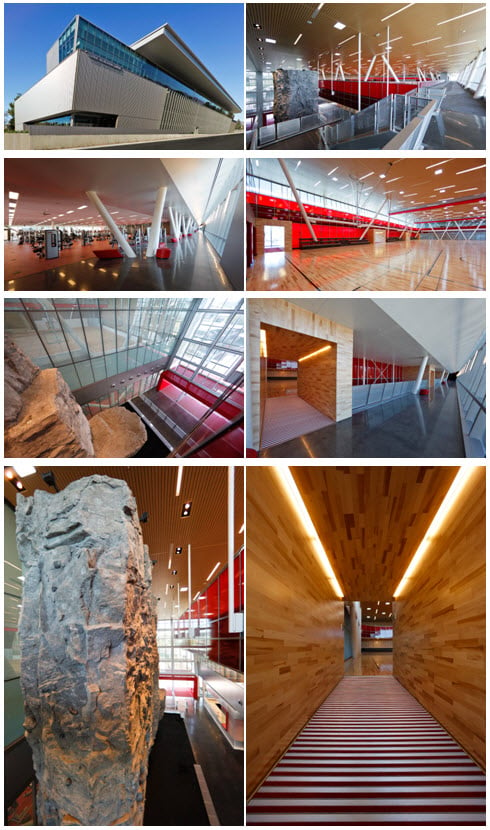 When asked about the finished product, CSU Northridge University Student Union ExecutiveDirector Debra Hammond said, "Honestly, there are simply too many wonderful features in this building to pick just one: I love the wood finishes, the color selection, the way the inside of the facility flows naturally into the outside, the pool, the landscaping, the studios, and the amazing rock wall at the entrance of the facility!"
A living rec center two decades in the making, Hammond describes the center as "beautiful and incredibly functional. It's an owner/operator's dream."
Sustainable design features implemented at this higher education facility include:
A thoughtful, displacement ventilation system
Solar control fins and screens
Use of recycled and low-emitting materials
Water-efficient California native landscaping
Low-flow plumbing fixtures
A rooftop photovoltaic solar array
Use of Forest Stewardship Council (FSC) certified wood products
Natural daylight for 90% of the usable spaces
Located on the outer fringe of CSU Northridge, the building soars 58 feet above campus and delineates a new campus edge. The east façade is mostly glass, which creates a "human billboard" that lets pedestrians see what's taking place inside.
Bonus Video: "Architecture, music and movies are all intended to be experienced in time—the fourth dimension," said Design Principal Glenn Carels, lead designer of the CSU Northridge Student Recreation Center. Inspired by movement, he created this short film, which also features project team members: Winston Bao, Associate Interior Designer and LEED AP BD+C, and Chad Edgley, Project Coordinator and LEED AP BD+C. Enjoy.
"We are truly grateful for LPA's creativity, vision, and masterful ability to take our ideas and design a breathtaking and functional facility and surrounding landscape," adds CSU Northridge Marketing and Programs Associate Director Shannon Krajewski.
The $62.3 million green gymnasium was commissioned by CSU Northridge students and funded through a special fee they voted to pay, and have been paying since 2007. LPA's next projects on the campus include a feasibility study for a 60,000-square-foot classroom and administration building, and the design of a 130,120-square-foot synthetic recreation field, which the Student Recreation Center will overlook, to be completed in 2013.
Glenn Carels is a Design Principal at California-based LPA Inc. As the California State University system moves toward greener campuses, Carels has played a critical role in the implementation of their sustainability guidelines and initiatives. During his 28-year career, he's garnered 44 AIA awards for his design work in Higher Education facilities.