Sustainable Planning and Design in K-12 Schools: Part 3
Last year, we began talking about the many planning and design strategies that can be used to green a new or existing K-12 school. I've especially enjoyed sharing this series with you, Sustainable Planning and Design in K-12 Schools, because more than 55 million students spend their time in school facilities each year and between 2010 and 2012, we will see nearly $90 billion in K-12 school construction. It's important that we get this right, and an easy place to start, is "Materials and Resources."
Your project team can significantly enhance a school's sustainability by using a wide variety of green building materials that promote healthy indoor environments and have minimal impact on natural resources. When constructing a building on a previously developed site, the team can conserve resources by reusing the existing building shell and even some of the interior elements. Concrete from a demolished building can be reused in sidewalks, roadways, and plazas and courtyards.
Vital green building materials include low and zero-VOC (Volatile Organic Compound) paints, sealants, and adhesives, which don't off-gas the toxins found in their everyday counterparts.
Green flooring choices include natural fiber and recycled carpeting, natural linoleum made, for example, from jute and linseed oil, FSC (Forest Stewardship Certified) wood products, and rapidly renewable resources like bamboo, as well as strawboard made from wheat (as opposed to formaldehyde-laced particle board), all of which are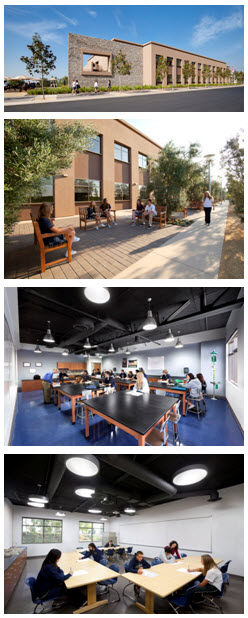 priced comparably to conventional materials and support healthier indoor air quality.
Building materials with recycled content are manufactured using less energy and fewer natural resources than other options. Other common building materials with recycled content include acoustic ceiling tiles, carpeting, paneling, signage, new steel frames, and even furniture. Materials should also be selected based on their recyclability at the end of their useful lives.
It's easy to purchase building materials from within a 500-mile radius of your project site. Not only will this earn the building LEED points, it supports the local economy, lowers energy consumption and greenhouse gas emissions, and reduces the project's costs, because the materials are being shipped over a shorter—less expensive—distance.
Finally, your project team should assure that at least 50 percent, and preferably 75 percent or more, of the construction waste is reused on site or recycled, as opposed to being sent to landfills.
In Part Four of this Sustainable Planning and Design school series, I'll give you simple, easy to grasp information about "Indoor Environmental Air Quality." Want to do something now to start greening your campus? Market your green school to strengthen its brand and educate the community about how, in conjunction with its curriculum, your green school has greater value in the community.
Dave Gilmore has more than 30 years of experience in the architectural design industry. A Principal at LPA Inc., Gilmore has left his mark on more than 200 K-12 schools. He has additional expertise in urban planning, commercial, retail, institutional, mixed-use and public architectural design. Dave is a LEED accredited professional (AP), and an active member of the American Institute of Architects (AIA) and the Coalition for Adequate School Housing (C.A.S.H.).