Nine Sustainable Lifestyle Tips for 2012
Welcome back dear readers. It's the first week of the New Year, and as our gift to you, we've compiled a list of short, actionable sustainable lifestyle ideas you can implement at home, for instant results. May you enjoy them, and enjoy these first few weeks of 2012.
Nine of our Best Sustainable Lifestyle Tips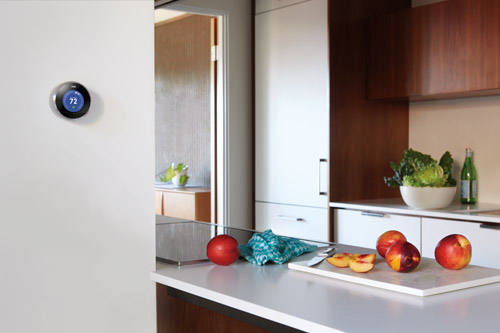 1. There is an interesting new residential thermostat called the Nest. Designed by engineers who worked on the iPod, they include a lot of high tech features (e.g. WiFi, and an iPhone app), to help homeowners manage home heating and cooling energy.
You can also simply set your existing thermostat to 68 for winter heating and 78 for summer cooling, and you'll probably save a lot of energy—with no hipster electronics required. –Tips from LPA's Erik Ring, PE, LEED AP BD+C and Civic Associate
2. Use baking soda and vinegar to clean, instead of harsh chemicals. This saves money too. –Tip from LPA's Tonya Pawli, LEED AP BD+C and K-12 Schools Designer
3. LED light fixtures last a lifetime and use far less energy than other types of light sources. Home Depot sells a can light with an LED source, which easily replaces a standard, recessed residential down light. You can do it yourself; the fixture runs about $40. You will not only reduce your energy consumption, you will also reduce the heat gain from the fixtures. An added benefit, they are dimmable! -Tip from LPA's Don Pender, AIA, LEED AP BD+C, REFP and K-12 Schools Principal
4. Buy a refillable fountain pen; it's the last pen you will ever need to buy. Do the math: if you use one disposable pen per month—from age 20 until you retire at age 65—that's 540 pens!

Seems like a sustainable trade off. -Tip from LPA's Damon Dusterhoft, AIA, LEED AP BD+C and Corporate Associate
5. Now that winter is here, make sure you heat (or in Southern California, cool) wisely.
Heat only when you need it with a programmable thermostat that turns down your heating when you are out of the house, or at night.
Eliminate cold drafts and warm air leaks by weatherproofing your house. For tips and additional information, visit the Energy Star weather sealing guide.
Make sure your heater is in top condition—change your air filter regularly and have your furnace or heat pump checked by an HVAC professional to ensure peak performance.
Keeping your heating in top condition will improve your comfort and save you money! –Tips from LPA's Tom Pine, Ph.D., PE, LEED AP BD+C and Senior Energy Engineer
6. Reuse toilet paper holders to hold cords together for irons, extension cords, flat irons, etc. –Tip from LPA's Carrie Littlejohn, Business Development Manager
7. Use natural cleaning products, as Tonya mentions above; they are easy to find and easy on the environment. Also, recycle; this one's great because it gets the kids involved too. –Tips from LPA's Steve Kendrick, AIA, LEED AP BD+C, CSI and Higher Education Principal
8. Buy local, and support local farmers markets when possible. –Tip from LPA's Rick Musto, LEED AP BD+C and K-12 Schools Associate
9. I believe in making small changes that add up to big changes. So even though it sounds cliché, habits like turning off the light when you leave a room, not leaving the faucet running when brushing your teeth, reducing shower times, and establishing personal habits of recycling, are all great ways of living more sustainably. Grow your own food, even small items like herbs or fruits. Low energy fixtures save energy over the long run. Also, consider weatherproofing measures, as Tom mentions above. It will save on heating costs and make your home more comfortable during cool, winter nights.
These are all basic measures that can be adopted as habits, and collectively, they'll go a long way. –Tips from LPA's Albert Lam, LEED AP BD+C and K-12 Schools Project Coordinator
For more sustainable lifestyle tips, keep this link handy. Thank you for taking the time to read this post, have a terrific, fresh start to 2012, and we'll see you again, next week.
Images courtesy: Nest.com, Damon Dusterhoft, and Monica Buck for RealSimple.com.