Architecture Highlights of 2011
Thu, Dec 29, 2011 Rochelle Veturis Coles Reduced Energy Costs, 9/11 Memorial, Project Based Learning High School, Rich Bienvenu, LEED for Schools, K-12 Schools, Dan Heinfeld, Wendy Rogers, Erik Ring, Energy Services, Year End Architecture Highlights, Orangewood Children's Foundation, The Academy, Jim Maclay
As we've done for the past two years, it's time for our annual year end highlights piece, reviewing the best in architecture and engineering in 2011.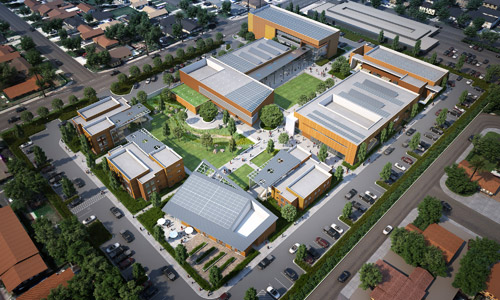 1. Charter Schools and Project Based Learning
For school designer Wendy Rogers, one of the best parts of her year, has been working on The Academy—a 320-student charter high school developed by the Orangewood Children's Foundation. One of the first facilities of its kind, the school will focus on project based learning, technology, and 21st century skills. The 7.2-acre, urban site in Santa Ana, California, will one day house a 40,000-square-foot residential village, where 80 foster students will live with guardian families.
This vibrant, built-in neighborhood will have patios, terraces, and gardens, and will connect to the 115,000-square-foot academic downtown through a bridge that changes with the seasons. The campus is designed to meet LEED for Schools, Gold criteria. "Too often foster teens do not have stable living and learning environments during their high school years," says Rogers. "It's an honor to be a part of a design team that is working to create a place that supports the needs of children in the foster care system."
2. LED Lighting: An Even Brighter Future
According to engineer Erik Ring, 2011 was a year where energy efficient LED lighting started to make real inroads as a viable and cost effective choice for general lighting applications. Both LPA's Irvine and San Diego offices feature a significant amount of LED lighting, and we continue to specify LED's in an increasing numbers of projects.
"There's a real uptick of interest in carefully metering and monitoring energy and water use in buildings," says Ring. "Clients want to understand not just that they will have a well designed, energy efficient facility, but that they'll be able to verify and monitor the energy and water use in their facilities, as well."
3. The 9/11 Memorial
For landscape architect Rich Bienvenu, the completion of the 9/11 Memorial is his design highlight of 2011. Designed by architect Michael Arad and the landscape architects of Peter Walker and Partners, the memorial features two enormous waterfalls and reflection pools, set within the footprints of the original twin towers.
As Washington Post Reporter Philip Kennicott, says, "It was a remarkable accomplishment for such a junior architect and even more remarkable that his basic vision has been realized with remarkably little compromise to its essential form … While it is still very much owned in some important way by the relatives and friends of those who died there, ultimately its destiny is to be merely a civic object in the urban fabric of New York."
4. Reduced Energy Costs: Expertise Makes the Difference
"Many LPA clients have substantially reduced energy costs this year as a result of our Energy Services group," says Energy Services Director and Ph.D., Jim Maclay. The next step in the firm's integrated design offerings, the group addresses the energy efficiency of new design and existing buildings. This year, LPA has completed a number of energy saving projects, which include energy master plans and energy audits for Irvine Unified School District; Oroville Government Center; Mt. San Jacinto Community College District; and West Hollywood City Hall. Solar photovoltaic (PV) projects for Ontario-Montclair School District; Cypress Recreation Center; and the Centinela Valley Union High School District. And a fuel cell project for the University of California, Irvine Medical Center.
"These projects have allowed our clients to save money instantly, while also reducing the environmental impacts of energy use," finishes Maclay. "LPA's energy engineers have worked closely with our architectural and engineering disciplines to implement real world solutions that go far beyond what most energy consultants are able to achieve."
5. Repeat Clients and Continuous Recognition
For LPA President Dan Heinfeld, there's nothing better than good clients. As we mentioned last year, LPA has a wonderful roster of companies, schools, cities, and developers, who continue to hire us for their architectural design needs.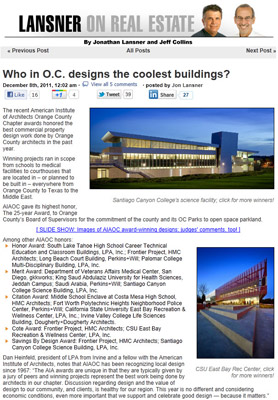 It's an honor, and the ultimate compliment. This year, we'd like to thank the following clients, for their repeat business: The Irvine Company, California State University Northridge, Palomar College, LBA Realty, the Los Angeles Community College District, the Irvine Unified School District, and the San Diego Unified School District, to name a few.
We are also delighted to share that 2011, marks the 35th year, in-a-row, that LPA was recognized by the American Institute of Architects in Orange County. The Orange County Register quotes Heinfeld, in their article about who designs the coolest buildings in O.C., "Discussion regarding design and the value of design to our community, and clients, is healthy for our region. This year is no different and considering economic conditions, even more important that we support and celebrate good design — because it matters."
Cheers to another terrific year dear readers. We look forward to 2012, and more interesting posts about architecture and sustainable design. We'll leave you with the words of Founding Father Benjamin Franklin, "Be always at war with your vices, at peace with your neighbors, and let each new year find you a better man."
9/11 Memorial photo courtesy National September 11 Memorial and Museum.