Furniture Tips for College and University Facilities: Part Two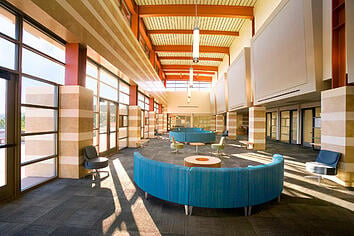 In Part One of our college campus furniture mini-series, we met LPA Furniture Guru Jill Kramer and learned about the exciting, new, fresh, and different design setups that are popping up in college and university facilities across California. In this post, we'll dive deeper into some of the finer issues of furniture installations, such as what colors and fabrics to use, and how to get the most from your furniture, when it comes to ergonomics.
Jill Kramer, IIDA, LEED AP ID+C
Q. Jill, in the first piece, you gave us some great information about the types of furniture pieces you're using in college and university classrooms, and offices too. Is it important for clients to be involved with color selection, or is that something they delegate to you, their interior designer? Also, what are some of the new, fresh colors you're using these days, in collegiate environments?
A. The colors for campus furniture and furnishings have gotten brighter, and much more playful. With colors, we go timeless. An easy place to get a pop of color is seat cushions. There's a big focus from manufacturers targeting Higher Education products, so it's a terrific time to be in this market. There are a lot of options, and flexibility is prime.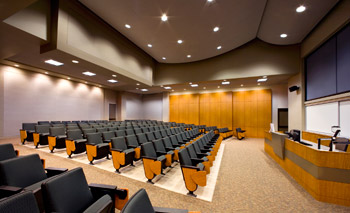 Q. What about fabrics? How do you help our clients pick something that will last?
A. Fabrics for Higher Education offices and workstations tend to stay within the standards of the manufacturer the school is specifying—mainly to keep costs down and/or establish consistency throughout facilities. In student lounge spaces, we select options that are more durable. When exploring product options, we provide selections that have a long, or lifetime, warranty. We are advocates for our client; if they like a certain product or furniture dealer, we support their efforts and enhance the relationship by integrating them into the design team. Our customers can then make informed decisions based on the established design objectives. We don't take gifts or "spiffs," and we don't have an agenda. It's about quality, functionality, a cohesive installation and long-term service—long after the project is completed.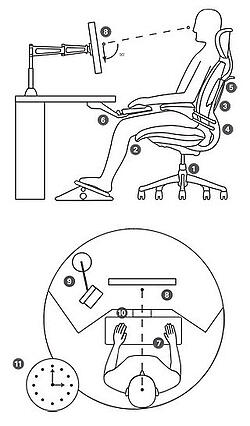 Q. Our last question for you is about ergonomics. How does a client get the most out of their furniture, and how can they be sure they're using it correctly?
A. Ergonomics are personal to everyone. Ergonomic chairs are a great place to start. Keyboards, for me, are user driven. Furniture should be adaptable, because everyone's so different. We set clients up with an evaluator, and encourage testing before clients purchase large amounts of products. Task lighting and desk lamps are other great ways to tailor Higher Education spaces, to an individual user's needs. It often comes back to doing the simple things better; it's amazing how far a little thoughtfulness and creativity will take you.
Jill Kramer, IIDA, LEED AP ID+C, has more than 14 years of experience in the contract furniture industry specifying more than $40 million. Her experience includes working for and with furniture dealerships, design firms and end users in furniture specification, procurement, ergonomics, needs assessment and full project management. She oversees Furniture Management Services at California-based LPA Inc., where she is also a Project Manager. Images Courtesy: LPA Inc. and Humanscale.