Architecture and Cocktail Napkins, a Sketcher's Dream
Recently, our very own Damon Dusterhoft made us proud, in Architectural Record's Second Annual Cocktail Napkin Sketch Contest. His Ronchamp entry (pictured), stood apart, from more than 1,200 napkins from nearly 400 entrants. Because of the nature of this design contest, we couldn't help but pepper Damon with questions about the contest, where he drew his inspiration, and what his plans are for next year.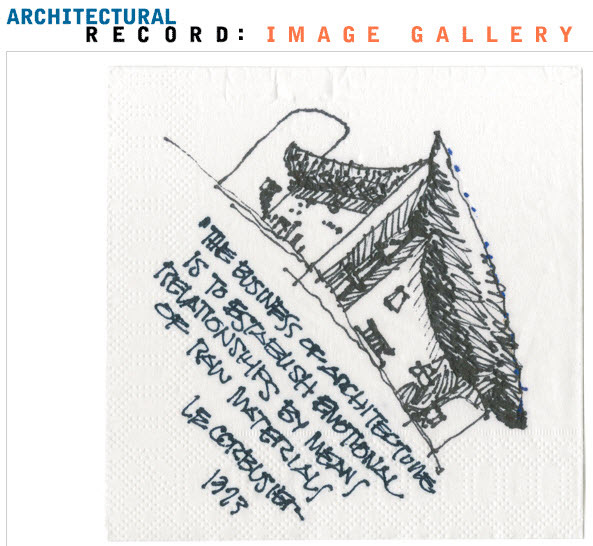 Damon Dusterhoft, AIA, LEED AP BD+C
Q. Damon, tell us about your winning design, where you drew your inspiration from, and how you found about this contest.
A. It seems like Architectural Record has been publishing a napkin sketch contest for the last couple of years. And so I tried. Two years ago I submitted, and since I didn't get selected last year, decided to try again. I noticed that they were drawn to older architecture, so I did one of the older Ronchamp sketches from Le Corbusier.
Q. Can you tell us more about the significance of Le Corbusier?
A. I was trying to find something that had historic quality to it and so Le Corbusier, a famous architect who is well known in architecture, had done this chapel in Ronchamp. I thought well, that would be fun, and it might catch their attention. I did some other goofy sketches that I happen to like, for example, a goofy art takeoff on Frank Lloyd Wright at Fallingwater (pictured below: top, center).
My other entries include a backyard scene – a nice quality sketch barbequing theme, a then some other more serious sketches around Eichler homes and that kind of thing. I just love to draw. Any time someone wants to draw something by hand I'm in. I'm doing it. I'm working on it.
Q. Are there any similarities between how you draw inspiration for a cocktail napkin sketching contest, and the work you design here at LPA?
A. Just like a lot of things we do at LPA, we look at things that are a given (i.e. Site: What does a site offer, for free? What can we get that doesn't cost us anything? How can we "site" a building, to best understand how it lives in its environment? How can we take advantage of the sun? Or wind? Or whatever might be there, on site?), and we leverage those things from the very beginning because it doesn't have cost associated to it.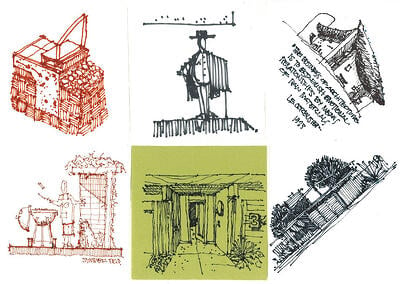 I did the same thing with these napkins. What can a napkin offer? What can it do for free? What color could I use to make it fun?
Because I enjoy drawing, I get inspired easily by things around me. Whether it's a project I'm working on at my house, or a detail that I'm working with at LPA, I take these elements and have fun with them, like I did with my Frank Lloyd Wright entry.
Q. What advice can you give to someone who wants to begin sketching, or even enter Architectural Record's Cocktail Napkin Sketch Contest next year?
A. I would say, practice. Draw a lot. If you like to draw, draw all of the time. What I tell my daughter, when she's working on projects, is to make sure she has something in mind.
"Where are your bananas?" I ask. If you're trying to draw something from memory, it's really hard to get there. It's much more helpful to have an example of what you're trying to draw. Get your banana, set it out there, start sketching, change the angle, change the sun, change the light and just practice. Have a good time with it. Try different pens, try different papers, try crayons, try pastel, try a sharp pen, try a thin pen, or try a pencil. Do a lot of experimentation, have fun, and enjoy the experience – whether sketching on a cocktail napkin or designing for a client, it shows in the finished product.
Damon Dusterhoft is an Associate and Project Director at California-based LPA Inc. During his 30-year career, he's worked on a range of building types which include corporate office facilities, retail projects, and a variety of recreation facilities. Dusterhoft lead both Ford Motor Company and Wal-Mart through some of their first sustainable, LEED certified buildings. He is an active member of the U.S. Green Building Council, the American Institute of Architects, and the International Facility Management Association. Damon lives in a stylish Eichler with his wife and two children, in Orange, CA.