Orange County Architects Honor Open Space
Open space in a community, can be just as important to a place as the architecture that surrounds it. It's easy to focus on standout buildings, but it's just as important to honor those who foster, take care of, and promote wild lands, parks, lakes, walking trails, and all of those things which we enjoy about open space.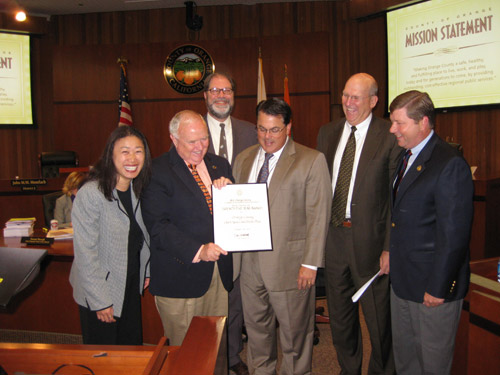 This week, I had the pleasure of visiting the Orange County Board of Supervisors to present them with the 25-year Award from the O.C. Chapter of the American Institute of Architects (AIA). This award is the most prestigious our chapter has to give. It not only recognizes individual projects, but projects that stand the test of time.
According to the AIAOC Jury, the Orange County General Plan has provided a guiding vision of open space for the county for 40 years. Successful implementation of the plan has led to the establishment of 12 regional parks, 8 wilderness parks, 7 historic parks, and 7 coastal parks. These spectacular lands – including seven miles of beach – are managed by Orange County Parks, for the benefit of the public.
"In 2010, the county accepted the donation of 20,000 acres of wild, open space from The Irvine Company. This transfer increased county parklands by nearly 50 percent, to more than 60,000 acres, and culminated a four-decade commitment to preserving open space and parks, by the County of Orange," said a juror. "Perhaps no other single element in Orange County has had such long term community value or has touched more lives than the exceptional network of regional parks and wild lands protected under the Orange County General Plan."
The residents of our county and future generations are all richer for the extraordinary commitment made by the Board of Supervisors and fulfilled by OC Parks, currently managed by Mark Denny.
We give warm congratulations to the Board, and commend the great work they've done for our county, for the generations that come next, and for those of us who live, work, and play here, to enjoy a balanced, more nature-filled Orange County.
Dan Heinfeld is President of California-based LPA Inc. For more than 30 years, he has led the design direction of the firm and more than 500 major awards attest to LPA's commitment to design excellence. Heinfeld is a Licensed California Architect, Fellow with the American Institute of Architects (FAIA), LEED Accredited Professional, and Nugent Scholar. He's an active member of the AIA National Committee on the Environment (COTE), National Association of Industrial and Office Parks, the California Council of the American Institute of Architects, the Association of Collegiate Schools of Architecture and the U.S. Green Building Council.
Photo caption: (From Left) Supervisor Janet Nguyen, Board Chairman Bill Campbell, Vice Chairman John M.W. Moorlach, Supervisor Shawn Nelson, LPA President Dan Heinfeld, and OC Parks Manager Mark Denny.