Library Design Secrets: Part 3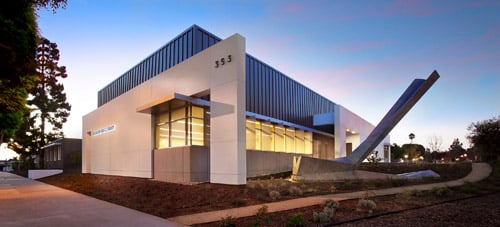 With the recent completion of the Fullerton Library Renovation, we thought it was the perfect time to finish our multi-part series on architectural design for libraries. Senior Design Principal Rick D'Amato is back to share more helpful insights about the library design process, and the components involved with making it a successful community space. With more than 17 libraries under his belt, D'Amato is a wealth of information and we're excited to bring you more of his expertise.
ACCOMMODATE TECHNOLOGY WITH EASE
In a library, the main goal of a successful media space is complete flexibility to allow the space to adapt to future technologies as well as future patron and staff needs. Keeping systems simple and accessible so that they can be easily revised or changed in the future is key. Raised floor systems, which create unlimited floor access for cable, electrical and data, are extremely efficient and flexible systems for libraries because they allow an unlimited variety of uses within the space. Raised floor spaces can adapt to almost any kind of use or configuration by simply accessing power and data needs directly through the floor almost anywhere.
Special library patrons such as those with disabilities are being catered to now, more than ever before. The most efficient libraries have limited floor elevation changes and access to accessible paths of travel, as well as restrooms and special furnishings for the disabled. Libraries, as public spaces are obligated to accommodate the community equally and therefore should continually update their spaces with the latest technologies and concepts in smart accessible design strategies.
As mentioned in past posts, library furnishings are changing to create more comfortable and enjoyable environments for today's patrons. Chairs, tables and soft seating incorporate more ergonomic and relaxed forms and shapes. Fabrics are more durable as well as more sustainable allowing for longer wear. Shelving and fixturing seem to employ more technology (i.e. integrated

public access computers and stack lighting), and alternative materials that reflect a higher green profile as well as a more durable approach. Partitions and wall accessories in today's libraries reflect a retail sensibility while also incorporating durable and sustainable materials such as natural linoleum and recycled plastics.
NATURAL FROM FLOOR TO CEILING
Once again, durability, performance and sustainability take center stage in choosing materials for both floors and ceilings in today's new and remodeled libraries.
Floors can incorporate innovative materials such as natural linoleums or carpet tiles with high recycled content and adhesives with low VOC content. Carpet tile also helps to prolong the life of the overall rug by having the ability to change out a carpet square if it becomes stained or damaged without having to replace the entire rug. Cork floors are also being used in libraries because of their beauty, durability and inherent sustainable nature.
Ceiling systems tend to incorporate a variety of different materials which relate to light reflection as well as acoustics. Acoustic treatments can range from wood slat ceilings with integral acoustic backing to applied and cost effective "Tectum" panels. Lighting is also a major factor in ceiling treatments. Direct/ indirect lighting systems seem to offer the most optimum internal environment for newer and remodeled libraries. Ceiling treatments and forms must be designed to incorporate a variety of different lighting options and strategies.
The best strategies for internal illumination as well as sustainability revolve around indirect lighting. Suspended indirect fixtures which reflect light off ceilings or adjacent walls can typically provide better illumination with less fixtures and therefore less energy use. By illuminating the ceilings and walls in a space, the space is automatically perceived as a brighter environment. This also tends to provide the most uniform type of illumination for a library interior.
Natural, yet controlled daylight is also being implemented more freely throughout library interiors. automatic dimming systems can be employed that read natural light levels within a space and adjust, or even turn off, artificial lighting – saving both energy and cost. Integrated stack lighting for book shelves can reduce the need for ambient light and provide better illumination for shelving systems. Interested in more, about how we design libraries? Let us send you additional information, specific to your needs. Please e-mail mbanks[at]lpainc[dot]com with "Library Design Info" in the subject line.
Rick D'Amato is a Senior Designer and Principal at California-based LPA Inc. For more than 20 years D'Amato's designed award winning spaces for corporate office facilities, retail projects, schools, city halls, libraries and community centers. He is an active member of the American Institute of Architects, the U.S. Green Building Council, the California Library Association, American Public Library Association and Public Library Association.