Sustainable by Design: LPA Sustainable Office and Energy Showcase
We apologize for the slowdown in blog posts this month however, we've been busy prepping for one of the largest, most exciting events the Orange County Sustainable Design realm has ever seen. Recently, LPA hosted the Sustainable Office and Energy Showcase where more than 500 guests visited our 15,000-square-foot expasion, tracking LEED Platinum certification, in Irvine's University Research Park.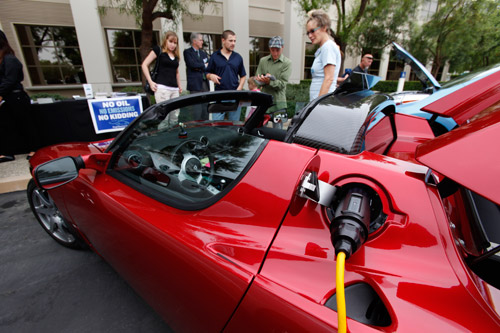 Attendees enjoyed the 60-foot Southern California Edison Mobile Energy Unit; "Sustainable Vehicle Fleet" comprised of electric and fuel cell vehicles – provided by UC Irvine's Advanced Power and Energy Program (APEP), Plug In America, and the first fuel cell vehicle owner in Orange County, Jim Salomon; a real-time Solar Photovoltaic monitoring display by the Irvine Company; our "Sustainable Print Lab" complete with edible toner samples, in partnership with ProRepro; and lunch from The O.C. Food Truck, Seabirds, and SlapFish sustainable seafood, with all-you-can-eat dessert from the Corona del Mar Frozen Yogurt Truck.
Designers from every LPA discipline (i.e. architecture, interior design, landscape architecture, engineering) gave personalized tours of the recent expansion. Sustainable features on display in the space include:
Vegetative Living Wall
Operable windows bringing fresh air, breezes and "environmental white noise" into the corporate work setting
Flexible, collaborative conference rooms and workstations – No private offices
Sustainable office-furniture displays, made with 70% recycled contents, sourced locally, and blanket wrapped during move-in, to prevent packaging waste
Sustainable Reprographic and Research Lab, which studies the impact of reprographics on HVAC, electrical systems and energy usage; and provides a client model for both retrofitting and building of their own sustainable print labs
A variety of efficient lighting and skylights, coupled with daylighting controls that exceed Title-24 standards by 50%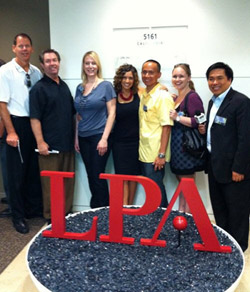 LPA also welcomed some of Southern California's most influential social media pundits, who broadcasted more than 250 updates, which reached more 95,894 people.
The lineup included: @TedNguyen, @OakleyOC, @CarolynJBaker, @EpicSkin, @Cfleury, @J__Steele, @TheBigDebowski, @SimonOh, @taclinard, @CarolHink, @EmilyQuestions, @StaceySoleil, @Robby_Ray, @LauraMickelson, @LivinLime, @JeffBColes, @LindaKrall, @TechSpaceAV, and @OCmetro Minute host, @KarlyABarker.
Link to Social Media coverage Mashup:http://sfy.co/EER
We'd like to extend our gratitude and thanks to the following companies, who partnered with LPA on our new Sustainability Lab: Tangram Interiors, MDC Wallcoverings, Fabric Wallcraft, Maharam, Lutron Electronics, Candlelight Systems, Interior Office Solutions, Haworth Office Furniture, Knoll, Systems Source, Designtex, Steelcase, Patcraft Commercial Carpet and Flooring, Forbo, Total Office Resource, Seasons Landscaping, Audio Visual Concepts, Arcadia Inc., and Solatube.
We appreciate each and every person who attended. The exhibits were great. The learning was great. The conversations were great. And we hope you saw that there is something very special taking place at LPA – and we'd love for you to be a part of it.