Earth Day 2011: Sustainable Design News from San Diego
Earth Day. A time when we celebrate our environment and try to enhance awareness on its care and preservation. Founded by U.S. Senator Gaylord Nelson in 1970, it's hard to believe that our company has been around before the day's existence – LPA was founded in Southern California in 1965.
When people visit our space and learn that we've been practicing sustainable design almost from the beginning, they always ask how we knew that "green" was going to be so popular. How did we know how to design environmentally sensitive architecture before it was given this label? The answer, we didn't. Designing buildings that know where the sun is, take advantage of natural breezes, and conserve before relying on systems has been natural to us. The right thing to do. Good design. And a terrific example of operating out of our core values versus listening to the market.
I love the famous quote from Henry Ford, about the first car he ever built, "If I'd asked my customers what they wanted, they'd have said a faster horse."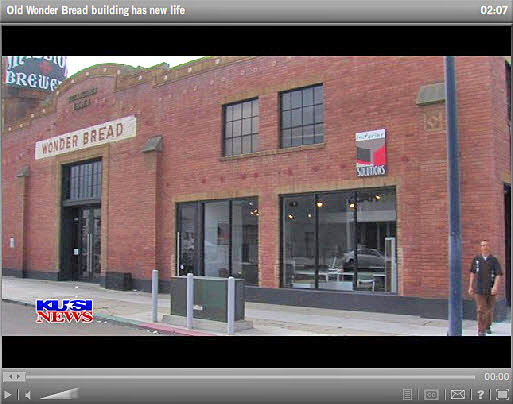 A DAY OF WONDER
This year's Earth Week has been extra special since it coincides with LPA's expansion in San Diego, Calif. As you've probably heard, our San Diego team is growing. So we've moved them into the historic Wonder Bread building in East Village – an area dedicated to artists, according to founder and architect Wayne Buss (1957-2004).
Our 5,000-square-foot space was built circa 1898, and is now on track to achieve LEED Platinum certification from the U.S. Green Building Council, for Commercial Interiors.
KUSI News reporter Mike Castellucci caught wind of our expansion and thought Earth Week was the perfect time to visit the space himself. As he mentioned during one of his segments, "the LPA office is better than sliced bread." He did a great job of reiterating our reasoning for choosing the historic space too – to show others how sustainable design can be achieved on any project, budget, building type and location.
For more about LPA San Diego, watch our Good Morning San Diego segment above or visit the space's online photo gallery: http://bit.ly/LPASanDiego
And of course, we wish you all the best on Earth Day 2011.
Dave Gilmore has more than 30 years of experience in the architectural design industry. A Principal at LPA Inc., Gilmore has left his mark on more than 200 K-12 schools. He has additional expertise in urban planning, commercial, retail, institutional, mixed-use and public architectural design. Dave is a LEED accredited professional (AP), and an active member of the American Institute of Architects (AIA) and the Coalition for Adequate School Housing (C.A.S.H.).