Rethinking K-12 School Design
By Guest Blogger Juan Padilla, Professional Studio Intern
In the El Cerrito neighborhood near the center of San Diego, Calif. is Horace Mann Middle School. The school is situated in between an elementary school and a high school, therefore making the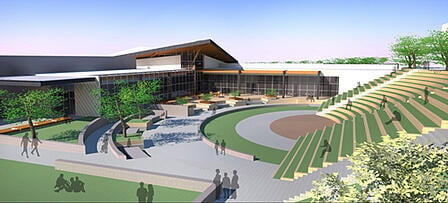 Horace Mann campus crucial for the intellectual development of this surrounding community. This particular urban community is rich in cultural diversity, as people from all over the world have settled here. Mann Middle School is attended by 1,600 students of which 42% are learning English as a second language from one of the 36 foreign languages represented on the grounds. This cultural and educational center is the focus of our studio project, as a part of the Cal Poly Professional Studio Program at LPA.
As it is true with almost everything, education is constantly evolving and, therefore, so should our methods and learning spaces. Student and faculty retention, outdated facilities, access, safety, curb appeal, community involvement, outdoor instruction, school pride, and overall quality are some of the downfalls of the current campus that we identified early on.
This studio project (which LPA is in the process of developing), brings great opportunities to rethink the learning environment. We understood the importance of community involvement so we focused on blending not only the student body within the school, but also reaching out into the community that fosters the students. Conscious of the cultural richness of El Cerrito, we want to celebrate this diversity both inside and outside the campus. We also believe that outdoor spaces and sustainability are equally important teaching tools, thus we incorporated them into our design of this new learning environment. Similar to the surroundings, the school's facilities should be able to evolve and adapt to new teaching methods for the generations to come. With these objectives in mind, and some ideas about innovative learning features, we were able to take on the difficult challenges of this task.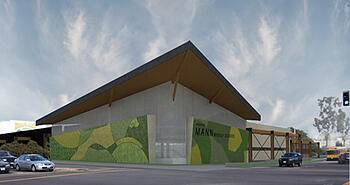 Community integration was the first challenge for these school facilities. Our solution was to separate the private spaces from the more public ones. In the "private sector," are the exclusive student facilities while in the "public sector," are spaces to be used by both the student body and members of the community. Two of the most attractive and prominent areas in the public sector are the library and its outdoor amphitheater. Because of this, after developing Phase One (the facility master plan) these two areas were approached with much greater detail in Phase Two. The outdoor amphitheater is designed to take advantage of a 21-foot level change on the site. This green, and never shaded, stepping slope is to be used for a multitude of student and community events such as school gatherings, concerts, lectures, movie nights, reading, relaxing, and graduations to name a few. The library, on the other hand, is a place where all of our design goals are celebrated in a rather explicit way: the meeting moment of students and community is accentuated by its inflated expression on our floor plan and façade; cultural awareness is celebrated with materiality and graphic expressions; the indoor library is connected to the exterior amphitheatre; and sustainable design features are taught in the materials and methods of design.
Sustainability was another major driving force in our design. The east-west orientation of our buildings maximizes the southern sun exposure and enables users to have better control of the indoor temperature. We also took the approach that a well-lit classroom improves student performance. Therefore, flexibility in our classrooms with movable walls and furniture creates bright rooms that become more dynamic learning environments. The indoor spaces are directly connected to the outdoors, and the same area can be shared and used in many different ways. Perhaps our strongest sustainable teaching tools, however, are outside of classroom walls.
Sustainable features include:
Bioswales for water retention
A sun dial that demonstrates the path of the sun
Urban agriculture that teaches organic food production
Electric vehicle stations that educate on alternative fuels
Photovoltaic panels that demonstrate how the power of the sun can be incorporated and harnessed to meet a school's energy needs
With these strategies in mind, the aim of our design is to cultivate a bevy of responsible citizens who are aware of their social diversity and natural environment, and to promote sustainable spaces and facilities that serve as teaching aids for years to come. As visionary and cultural leader Ken Robinson said, "Creativity now is as important in education as literacy."
For more information about the LPA-Cal Poly San Luis Obispo Professional Studio Program, e-mail dgilmore[at]lpainc[dot]com.