PV Arrays for Patty's Day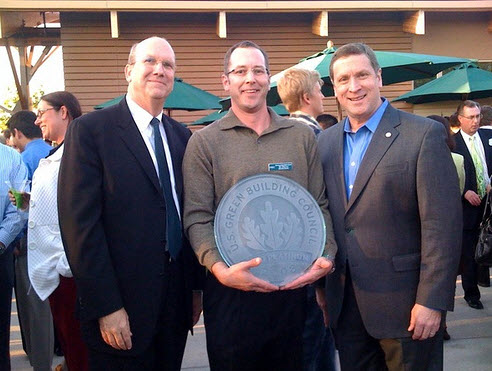 Two years ago, on St. Patrick's Day, we had the LEED plaque ceremony donation for the first Platinum building in Orange County, and more importantly one of the few "net zero" buildings in the country. Why is net zero so important? It's important because a net zero building is a project that produces as much electrical power as it requires during a given year. When the conversation for sustainability changes to buildings that are net energy users, that is a profound shift to the industry and our sustainable future.
The architectural, engineering and construction (AEC) industry has the potential to no longer be talking about buildings and spaces that are "less wasteful." We've now moved and directed the discussion to real energy conservation – one of the most important issues facing our future not only here in California but globally. This is why I am so excited and encouraged about what we are seeing and doing here at LPA. When the Environmental Nature Center (ENC) was being designed, the idea of making the project net zero was discussed and was an option which depended on the funding of the photovoltaic (PV) array. And by the way, the ENC was the only project in our office that we were having serious discussions about major energy offsets, let alone net zero status.
Today it is remarkably different. The number and types of projects we're designing where the majority or even 100% of electrical needs, are being provided by on-site PV arrays has surged. We're not only discussing these options but they're actually being programmed and included in budgets from the outset.
The following are a few examples of these ultra energy efficient projects that are either in the design phase, under construction, or recently completed:
Jerry Lewis High Desert Government Center, in Hesperia, CA.
This building is 22.7% more energy efficient than California's stringent energy code. It features an on-site solar PV power system comprised of both roof-mounted and carport designs that provides for 85% of the building's energy needs.
Moreno Valley College Learning Gateway building and parking structure, in Moreno Valley, CA.
The building features 16,750-square feet of surge space (i.e. space for college police, student activities, faculty offices, disabled student programs and services, and more), while the parking structure is designed to accommodate 800 vehicles. A solar PV array will provide for nearly all of the project's power needs. The structure is naturally ventilated and together, these facilities resolve current American with Disabilities Act (ADA) accessibility issues for this area of the campus.
Montgomery Middle School, in San Diego, CA.
The school's design is 45% more energy efficient than California's stringent energy code. It's on track to become the first LEED Platinum public middle school. Sustainable design features include building orientation on an east/west axis to maximize daylighting, minimized heat gain, and natural ventilation opportunities for teachers and students. Solar orientation of the roof was optimized for a PV array that is expected to meet more than 90% of the project's electricity needs.
Grossmont High School Child Development Center, in El Cajon, CA.
The center's design exceeds certification requirements set by the Collaborative for High Performance Schools (CHPS). Energy efficient sustainable design features include a 25% reduction in net energy use, the use of an energy management system, a cool roof that exceeds energy code requirements, abundant daylighting, and operable windows. From the start, the proper orientation of the project was consider and the PV array is expected to meet 75% of the center's annual electricity needs.
Dan Heinfeld FAIA, LEED AP and President of LPA Inc. For more than 30 years, he has led the design direction of the firm. Since 1985, LPA has been recognized with more than 150 AIA national, state and components awards that promote the important role that sustainability has in the process to inform design. LPA provides services in architecture, sustainability, planning, interior design, landscape architecture, engineering, signage and graphics.