HOW TO: Thrive at an Architecture Firm
By Guest Blogger Nhu Hoang, Professional Studio Intern
I can't say enough about the opportunity to work at an architecture firm, LPA in particular, and the much needed breather it's been from my curriculum at school. During only the first five weeks, my intern colleagues and I have been having great learning experiences and promising previews of our future career paths. Not only have I learned about architecture, but also find myself taking on unusual tasks as well as enjoying unexpected perks.
First of all, it helps that LPA is a respected architecture firm well known for their focus on sustainable design. This principle is expressed in their architecture works by people who are really passionate about sustainability and the spaces they create – that enrich the lives of those who use them. It is also reflected in the office culture; from furniture made of recycled materials and sketchbooks of old floor plan drawings, to weekly "Lunch and Learn" lectures where I get to learn the au courant trends in green building, products and technologies. I have learned and been influenced by their "Principles of Absolute Design." I have also experienced their approach to integrated sustainable architecture which I'm sure will have a profound effect on my work and designs at school from now on.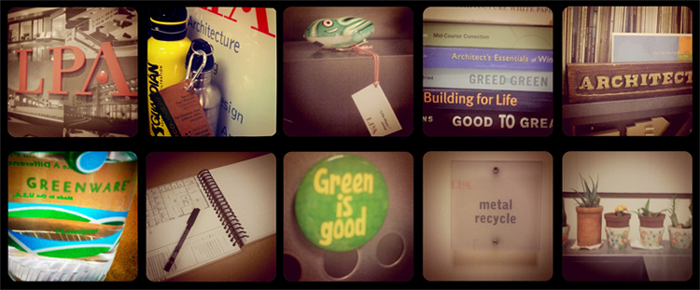 Secondly, the internship provides firsthand training in a professional environment. Tasks such as change orders, details, drawings or Photoshop renderings, PowerPoint Presentations and creating material palettes, etc. are all opportunities to learn more about the process than what we have been introduced to in school. I can't stop being amazed when doing change orders and understanding how the cost of errors and changes during the construction process can impact the success of a project. Most importantly, I learn and gain a greater understanding of the process of architecture - the software and technology used, design constraints, Americans with Disabilities Act (ADA) compliance, presentation styles, and cutting edge sustainable trends. This is all insight into the industry that I had trouble envisioning before.
LPA has provided a well rounded learning experience in many aspects of architecture, from rendering and construction to interiors and landscape, with more to come. This rare, rich opportunity to work with an integrated design team of structural engineers, mechanical engineers, landscape architects, interior designers, etc. all in-house as well provides the advantage of involving the entire team early in the design process. This approach improves productivity and coordination significantly and helps contribute to the success of LPA projects.
Beside architecture, I have also become more aware of work ethics and communication as essential skills of professionalism. Working has also improved my time management skills and the ability to plan accordingly yet be flexible in the constantly changing and creative environment of an architecture firm. Even the small tasks such as editing site photos or making a PowerPoint slide usually take longer than expected; yet they are critical to complete on time, as a part of a team trying to meet deadlines. The opportunity to work on physical models emphasizes that precision is another very important skill in the profession, especially when presenting to clients and representing your firm. As a part of a group, I am learning to take initiative and find learning opportunities in even mundane things –whether scanning, filling, or archiving documents. These personal skills and opportunities can only give me a leg up in the professional world ahead.
There are only a few weeks left in my Professional Studio Program internship, but the opportunity to work at LPA so far is a rewarding experience and nothing short of amazing. I enjoy working and learning from individuals with a wide variety of backgrounds and I'm thankful to my mentors and all the people here for their endless support and patience. Working all day long at such a fast paced and creative firm can be mentally exhausting, but at the end of the day, I feel satisfied and grateful for what I've have been learning.
For more information about the LPA-Cal Poly San Luis Obispo Professional Studio Program, e-mail dgilmore[at]lpainc[dot]com.