Sustainable Design Models Integrity to Students
By Guest Blogger Katherine Schwingel, Professional Studio Intern
Perspective is one trait that architecture students are always striving to master - thinking about the big picture, the minute details, and peoples' perceptions about a project. The daily marathon is this process of zooming in and zooming out; considering every possible alternative to find the best solution.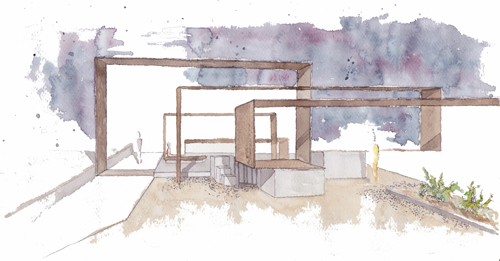 For me, this constant shift in perspective has now zoomed out to encompass the way I think about my education. After working as the clueless-about-architecture intern at a firm in high school, I saw how much more there was to the completion of a project. At Cal Poly San Luis Obispo, the two and a half months allotted for each project, each academic quarter, is supposed to be a crash course in real life. Every quarter provides another opportunity for design instruction, and another professor with a varying focus inherent to his or her studio. Quarter after quarter my design skills improved, but my perspective on the real world of the profession still seemed lacking. Deciding to include an internship in the course of my college education was then almost a given to ensure that I knew how the real world worked before I got there.
Choosing a firm from the list of options actually came pretty easy for me. Sustainability is an integral design component, but still comes off as a buzz word not only in our profession, but in others as well. LPA is a firm that strongly stands by their sustainable approach, and were pioneers of sustainable design long before it became equivalent to a celebrity trend. The sustainable design awards that hang on their lobby wall are a testament to this mission.
Having the opportunity to work in an office where other design services are integrated in house is also a great LPA advantage. Not only does this make coordination easier between engineers, landscape designers, and architects, but also allows projects to begin with the input of many different people so the design starts with many perspectives in mind.
By design, the Cal Poly internship program includes working with two other interns on a design project similar to a studio project at school. Learning how to work effectively in a group of designers will not only benefit me in my career after college, but also allows me to learn, listen and comprehend other people's perspectives. An office environment offers countless resources with different specialties to consult with as our own design project starts to come together.
Working as an intern exposes you to the inner workings of a business and the various stages through which a project filters; both of which are hardly addressed in the university setting. One group could be working on very early master planning while the person across the partition could be overseeing the construction timeline and budget with the general contractor. Past professors have said many times that an architect must be able to do different tasks well rather than specializing in any one subject, and I have definitely seen that in practice here at LPA.
Being a member of a firm brings with it responsibilities as well, most importantly - deadlines. Studio deadlines in school shouldn't be messed with, but who are we kidding? Parts of models don't end up getting built, or the plan for the second story never gets drawn because the first level plan should suffice when you have to print a presentation board 15 minutes before a review. Accountability becomes the rule for everything we create and spend time doing. In a design firm, you're working with real clients and real projects that have a real timeline, so responsibility for time management is critical, and it's a skill I want to improve upon during my time here.
After working at LPA for only a week, one thing confirms my decision to spend a quarter of my fourth year here. The honesty I have found in the work and in the people is refreshing. Their website isn't an advertising campaign on false pretenses; they really do take their mission and sustainable principles to heart. Integrity is important to me, and working with people who value that as well will yield truthful, responsive projects that become the standard for the next era of architectural design.
One year from now, when I am a graduate of Cal Poly's architecture program, I want to be able to say my LPA internship allowed me to take our motto to heart – learn by doing.
For more information about the LPA-Cal Poly San Luis Obispo Professional Studio Program, e-mail dgilmore[at]lpainc[dot]com.