Top 2010 Architecture Highlights
It's that time again. Time to take a minute, stop, and absorb the fact that yet another year has flown by. And while yes, times have been tough for the building and design industry and the nation's economy as a whole, there have been bright spots for designers in 2010. Here are seven of our top picks, from an assortment of design professionals (architects, engineers, interior designers, planners, and landscape architects) at LPA Inc.
1. HVAC Efficiency Adds Up
LPA's mechanical engineers are integrating relatively small variable air volume, variable capacity compressor HVAC units into many of our projects (i.e. Oldtown Newhall Library, Laguna Niguel City Hall, Montgomery Middle School, Newport Beach Learning Center, and LPA San Diego). "This is giving our projects impressive HVAC energy efficiency calculations (comparable to large built up chilled water systems) for smaller projects where energy efficient HVAC options traditionally have been limited," comments mechanical engineer Erik Ring, PE, LEED AP.
2. A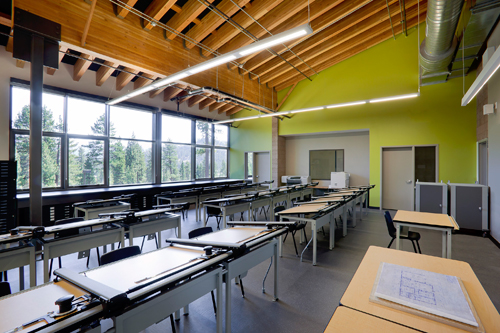 Tenacious School District Grows Green
Lake Tahoe Unified School District –author of a green school resolution in 2008, completes two pieces of their four-phase high school master plan. Making the most out of Career Technical Education (CTE), Joint-Use, Overcrowded Relief Grant (ORG) and high performance funding, matched with a district bond, the citizens of Lake Tahoe are protecting their fragile environment while they re-build their schools. "As a CHPS* designed campus, this green school demonstrates that buildings can use less and do more," says principal Wendy Rogers, AIA, LEED AP.
3. Customers Come Back for "Seconds" and "Thirds"
Just like the holiday meals at your family's home, there is no greater compliment to the cook –or in this case your design firm, than repeat business. In last year's highlights post, we mentioned Western Digital who hired LPA again after working with us 14 years ago. LPA has been fortunate to have many repeat clients in 2010 including The Irvine Company, LBA Realty, El Camino College, City of Orange, City of Hesperia, and Palomar College, to mention a few.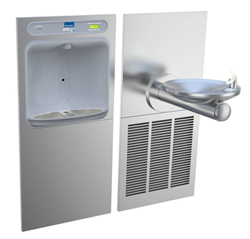 4. Water Bottle Filling Stations Make a Splash
Many of our clients are requesting, and LPA plumbing designers have been specifying, bottle filling stations in addition to conventional drinking fountains. "These stations, which we've designed into recreation centers and K-12 schools this year, allow people to fill their reusable water bottles, reducing demand for disposable plastic bottles," adds Ring. Along with California's Low-Lead Plumbing Law (AB 1953), the bottle filling stations represent a movement toward healthier plumbing systems.
5. Water is Still the New Oil
AB1881** was passed and put into effect. It requires an unparalled level of water use efficiency in site development –through proper design of irrigation systems, planting design, and site drainage. "The ordinance recognizes that California's water is limited and that to continue our prosperity, we'll need to have adequate supplies of water available for the future," explains landscape architect Arash Izadi, ASLA, LEED AP. The ordinance also solidifies the state's strategy: to promote water conservation, and the efficient use of water, wherever possible to prevent waste of this priceless resource.
In other water news, the 2009 DWQ Stormwater Permit was adopted. This requires all agencies including cities and school districts to potentially detain and treat the storm water on their sites. "By adopting this latest permit the sustainability measures we have preached and designed are no longer optional and cannot be waived due to cost or other constraints," continues Izadi. "This is a significant milestone in how we design and approach site development on our projects."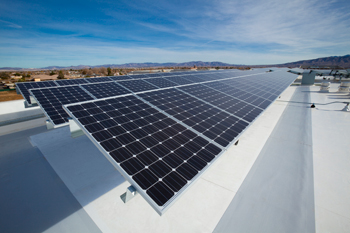 6. Photovoltaics Become More Affordable
Significant price reductions for photovoltaic (PV) systems mean that LPA has been able to design significant PV systems into several recent projects (i.e. Newport Beach Learning Center, Moreno Valley College Gateway Learning Building, Montgomery Middle School) without compromising the project budgets.
7. LPA Volunteerism Sustains our Profession
"LPA employees continue to be leaders and active participants in a slew of professional organizations," says Ring. These include the U.S. Green Building Council (USGBC), American Institute of Architects (AIA), California's Coalition for Adequate School Housing (CASH), The American Society of Heating Refrigerating and Air-Conditioning Engineers (ASHRAE), the American Society of Civil Engineers (ASCE), the Center for the Built Environment (CBE), and the Council of Educational Facility Planners International (CEFPI), to name a few. "When you consider that participation in these groups is unpaid, and packed in between 40-hour work weeks, school, faith and family obligations, it's quite remarkable," finishes Ring.
*Collaborative for High Performance Schools
**The California Model Water Efficient Landscape Ordinance
Rochelle Veturis Coles is the media and public relations director for California-based LPA Inc.