Architecture Students Explore Healing Healthcare Design
By Guest Blogger Christian Bindel, Professional Studio Intern
On March 23, 2010, President Barack Obama signed into law the "Patient Protection and Affordable Care Act." An end to healthcare as we know it has approached, and a new era is upon us. Under the new law several different changes, in both practice and administration, will take place. Many experts believe the impact is so profound it will affect everyday culture. But what exactly does this mean for Architects?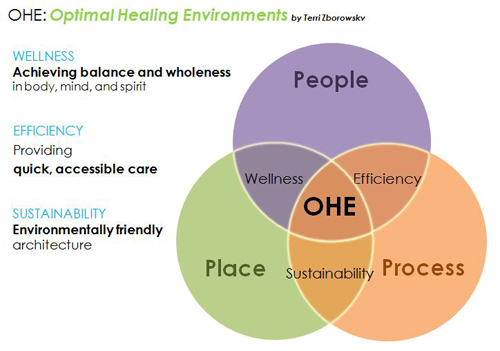 As insurance coverage expands from 83 percent to an estimated 95 percent, health care facilities will expand and new ones will break ground at an explosive rate. Jaynelle Stichler, a professor at the University of San Diego School of Nursing and co-founder of Health Environments Research & Design Journal, stresses the importance of the designer during this explosive period.
"With billions of dollars of spending anticipated in healthcare construction … it is imperative that means to improve healthcare environment be explored to ensure optimal work, healing, business and cultural outcomes," Stichler writes. The four areas she mentions: work environment, healing environment, business model, and cultural outcome, are key to successful healthcare facility design. By considering these things equally, we've begun an experimental and prototypical design for an integrative health care campus that is both revolutionary and sustainable.
As a part of the LPA-Cal Poly Professional Studio Program, I took on the challenge (along with two other students), to explore potential strategies for the future design of a healthcare facility. The following describes our three month exploration and design.
OUR HYPOTHETICAL CAMPUS
Comprised of more than 300,000 square feet on a 22-acre site in Irvine, Calif., the Aloe Wellness Center is a hypothetical healthcare campus focused solely on outpatient services (an area we expect to grow due to new policies and funding from the health care bill). The program is divided into three main areas –treatment, prevention, and community.
The treatment wing includes primary care services, urgent care center, specialty care services, patient healing gardens, and a physical therapy garden. The prevention wing includes integrative care services, a public fitness center, an executive health program, an active garden, and an aquatic center. Lastly, the two separate care facilities are connected through the educational community center and garden, the heart of our program. This community element includes a research library, retail opportunities and the capability to hold community events, lectures and educational seminars.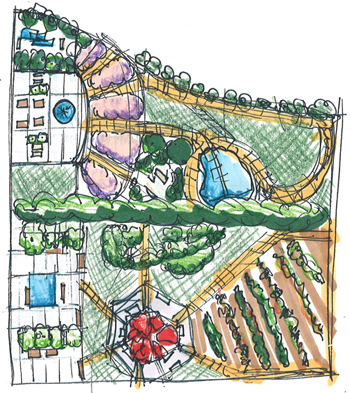 Key components of our proposed design are the multiple gardens and connections to nature throughout the site. Studies have shown that nature has a profound impact on reducing stress, medicinal doses, and ultimately the cost of providing health care. Our garden designs range from active to tranquil and relaxing spaces; they serve a variety of purposes from physical and performance testing to spiritual healing and meditation.
In addition to the gardens, the buildings themselves provide connections to nature throughout, providing healing benefits and sustainable design opportunities as well. Use of natural materials and a colorful palette provide a warm and stimulating contrast even when using a cost efficient building method like precast or tilt-up concrete. Our design provides large operable windows to provide natural ventilation across long and narrow floor plates which allow the outdoors to spill in. Narrow floor plates provide clear, central circulation, as opposed to the mazes found in many of today's health care centers. Small atriums and light wells dispersed along halls provide heat stacks for hot air to exit during the warmer months; natural light and air flow into most interior spaces.
Different from the rest of the program, the central Community Center is open and inviting to encourage social gatherings and active learning. As a business model, the community center is the hub that integrates the two different programs of prevention and treatment. To promote this connection, and provide an element of customer service, we proposed a service called a Wellness Concierge. These health counselors, or concierges, maintain personal relationships with patients to provide a knowledgeable and nonbiased resource to satisfy health care needs. A concierge could help a patient decide which approach of treatment best suits their lifestyle, follow up to ensure that they are continually achieving a wholesome state of being, or even help develop a preventative fitness plan to maintain a desired level of health and wellness. The Wellness Concierge provides a level of personal attention and connection that is not reached by the current system of healthcare.
By creating a health care facility not just for the patient, but for the doctors, nurses, and ultimately the community, the cultural impact a facility like the Aloe Wellness Center could provide is a revolutionary concept that could be realized in the future of healthcare design.
For more information about the LPA-Cal Poly San Luis Obispo Professional Studio Program, e-mail dgilmore[at]lpainc[dot]com.