Limitations Make Design Better: Insights from an Intern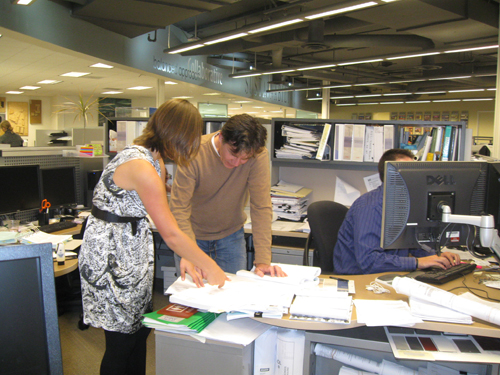 By Guest Blogger Catherine Lam, Professional Studio Intern
I knew interning at LPA would be a valuable learning experience much different than as a student at Cal Poly San Luis Obispo. But I never imagined how much material I'd actually be exposed to. Being immersed into the culture of the company, I've been able to witness how firms operate in the business world. There is always something new to learn, and I'm absorbing vast amounts of knowledge every day.
This internship opportunity has allowed me to tap into many different aspects of architecture. While in a school setting, I've only experienced personal design projects with individual feedback from professors and peers. In the office, there is an incredible amount of interaction with others. We must consider not only the intent of the architect, but also the opinions of the engineers, interior designers, and other team members. The opportunities to experience this collaborative process are rarely realized in a school setting, and yet, they are the foundation of LPA's integrated design process.
In fact, many things that I am learning at LPA are not taught in school. Design classes are primarily focused on the design intent of the assigned projects. Design intent is incredibly important, but there are also many other aspects of a project that must be considered (i.e. client relationships, sustainable design elements, constructability, budgets and building codes). Research and design are not the only elements in a real-life project; there are many rules and restrictions that apply and play a huge part in developing a project. Learning about these restrictions in an office environment gives me the chance to understand how project constraints become design opportunities.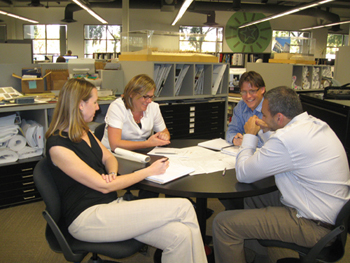 I've learned that presentation is key to selling a project. LPA uses its presentations to tell a story to its audience. Attending lunch seminars and working with PowerPoint documents has taught me a great deal about how to give a successful presentation. Learning how to clearly present ideas is a valuable skill that I'll use to effectively present my own ideas in future presentations.
From this co-op experience, I am also learning something about myself and my own interests in the field of architecture. I have a greater awareness of sustainability and a greater interest in design for healthcare facilities. I also realize the influence good design can have on a diverse group of users. An immersive and successful internship is a great practical supplement to any design education, adding useful knowledge to your personal knowledge bank that you'll look forward to using in the future.
About The Professional Studio
The Professional Studio is a quarter long experience for three Cal Poly San Luis Obispo Architecture students that combines a design studio and co-op employment. The design studio and co-op are conducted by members of LPA under the guidance of a Cal Poly, Architecture Department faculty member.
The design studio involves a comprehensive integration of theory, practice, design processes, and building systems with emphasis placed on highly functional, highly efficient projects set in an urban context. The project is held to a standard of sufficient realism with the input of multiple members and disciplines of LPA.
The cooperative education portion of the Professional Studio Program recognizes the benefits of work experience to shape and refine a student's career goals by creating an opportunity to gain work experience with time for reflection as well as action.
The Professional Studio Program provides invaluable experience for the students as well as great benefits to the office by infusing the creativity and energy of students into the office and providing an avenue for exploration and development of the ideas of the firm. The connection and relationship with the Cal Poly San Luis Obispo campus and staff provides a link to academia that ensures a continued progression of the firm and the practice.
For more information about the LPA-Cal Poly San Luis Obispo Professional Studio Program, e-mail dgilmore[at]lpainc[dot]com.