Why Choose An Architecture Internship?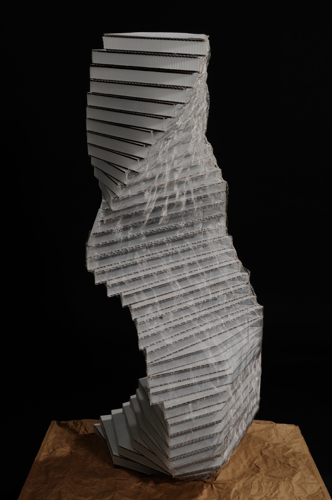 By Guest Blogger Nikole Fix, Professional Studio Intern
Paris, Florence, Copenhagen, and Rome are just a few of the programs offered to architecture students at California Polytechnic State University. It is very common, if not expected, that architecture students study off campus for their fourth year.
I could have chosen to travel abroad, go to several different countries on a whim, emerge myself in a new culture and learn about their customs, language, and people. Instead, I chose to partake in an internship for the fall quarter of my fourth year.
This conflicted choice has made way for one of the most opportunistic experiences of my life. Although working in California, a state I have resided in all my life, may not appear to be as glorious as living in Paris for a year, I believe this internship will cast an incredibly strong influence on my future career.
Experience is the key to success in architecture. Choosing an internship is the best route I could have possibly taken. Not only will the experience of working in a firm show up on my resume, but I will gain many priceless bits of knowledge that will help me on my way to becoming an architect.
An internship is also a way for me to see exactly what I want to do during my career. Do I want to work on large projects like k-12 schools, universities and corporate buildings or would I rather design smaller projects such as restaurants and residences? With such a vast range of opportunity in the architectural field, I'm hoping to discover my likes and dislikes and narrow down my preferences for the future.
Choosing a firm to intern at was a challenge, but in the end, LPA upheld more values that I would like to pursue. I believe that their stress on sustainable design and integration is key to operating a successful architectural firm. Also, LPA combines the right amount of creativity with business suaveness to continue their success, and I would like to take away some of these business skills to aid me along in my career.
Just being at LPA for two weeks has given me knowledge that I probably wouldn't have gathered in a school setting. I have already worked on several different projects throughout the firm and am starting to get comfortable with the way the firm operates. I'm learning new, firm "lingo" everyday and becoming more and more experienced bit by bit, day by day.
I look forward to working with LPA this quarter and I know that I will gain incredible work experience that no year abroad in Europe could possibly provide.
About The Professional Studio
The Professional Studio is a quarter long experience for three Cal Poly San Luis Obispo Architecture students that combines a design studio and co-op employment. The design studio and co-op are conducted by members of LPA under the guidance of a Cal Poly, Architecture Department faculty member.
The design studio involves a comprehensive integration of theory, practice, design processes, and building systems with emphasis placed on highly functional, highly efficient projects set in an urban context. The project is held to a standard of sufficient realism with the input of multiple members and disciplines of LPA.
The cooperative education portion of the Professional Studio Program recognizes the benefits of work experience to shape and refine a student's career goals by creating an opportunity to gain work experience with time for reflection as well as action.
The Professional Studio Program provides invaluable experience for the students as well as great benefits to the office by infusing the creativity and energy of students into the office and providing an avenue for exploration and development of the ideas of the firm. The connection and relationship with the Cal Poly San Luis Obispo campus and staff provides a link to academia that ensures a continued progression of the firm and the practice.
For more information about the LPA-Cal Poly San Luis Obispo Professional Studio Program, e-mail dgilmore[at]lpainc[dot]com.