Benefits of Community Based Master Planning: Part 1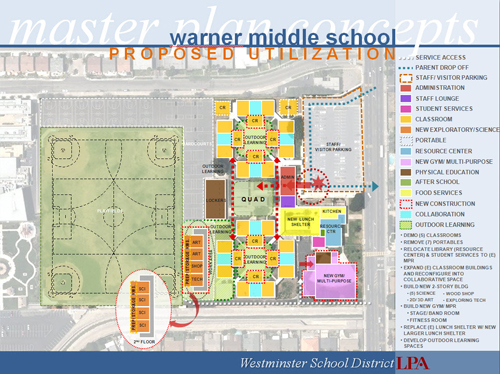 So you've decided your district needs to update or create a new master plan. One of the questions we hear a lot is, when should I conduct a master planning process? The next question is usually, what will that process be like? This series of posts tries to offer answers to those questions and help you navigate toward the process that brings the most value to your school district.
More than most activities conducted by school districts, the master planning process should be seen as an opportunity to interface with your stakeholders: teachers, students, parents, staff, as well as people who normally have no direct contact with your schools at all, but who live and pay taxes in your community. The experience should be positive, even celebratory.
This is an opportunity to get away from pressing day to day concerns and allow all participants to think ahead and be part of creating a new, broad based vision for the future of education in their community. It also, of course, entails hard work and commitment from everyone who agrees to be a part of the process.
Real, meaningful input from stakeholders of the district is critical to the success of your master planning process. Each person asked to participate is selected not only for their ability to provide this kind of input, but also because of their interactions and connections within the community. Process participants should return to their respective communities to speak with them, share ideas, and even better, to bring back grass roots ideas to share with their planning committee. Committee members will address issues ranging from demographics, finances, existing facility condition, and educational delivery concepts that shape future facility goals.
If you look at how different districts actually develop their K-12 master plans you will find a wide range of variation on both process, content, and outcome. Some master plans are short term in nature, are focused on immediate short term needs, and may be driven by a district's short term bonding capacity. This approach might be alright for a district who knows exactly where they are going and how they are going to get there. Their actual needs might be related more toward implementation than toward vision.
On the other end of the spectrum are districts that may be at a crossroads. They may be facing demographic shifts. They may be faced with a large inventory of aging schools that don't really support the changing needs of a more modern educational delivery philosophy. They may be questioning their educational philosophy or struggling with how future technological innovations may change how students learn in the future.
Many districts can benefit from a process that seeks to find a shared long term community vision, and a roadmap for achieving that long term vision. This is where LPA's experience can be of the greatest value.
In the process of developing this kind of long range master plan, the role of the architect or the planner is not to impose a vision, or to prescriptively offer a range of fixes to immediate problems, rather it is to facilitate, to help the community develop its own unique vision. The committee should develop a set of "Guiding Principles" which will guide all subsequent decisions of the planning process, and continue to guide district facilities decisions far into the future, even into future design processes.
Learn more about the master planning process, common misconceptions and how to quickly and easily craft guiding principles, subscribe to Integrated Sustainable Design and catch Part Two of this post.
Donald Pender, AIA brings more than 28 years of experience to his role as Principal at California-based LPA Inc. He is a LEED Accredited Professional and a Recognized Educational Facility Planner (REFP).