Lessons from Chicago: A Walkable City Is a Lively City
Though I'm far from athletic, when it comes to walking, I consider myself a pro. That's why one of my favorite past times while traveling is to thoroughly explore a city on foot. Having grown up in Southern California, a land dominated by automobiles, I find a certain thrill when I'm able to successfully trek through a new city as a pedestrian. As such, my recent sojourn through the city of Chicago surprisingly proved to be as fun as many of my European city jaunts--primarily because of its friendliness to walkers.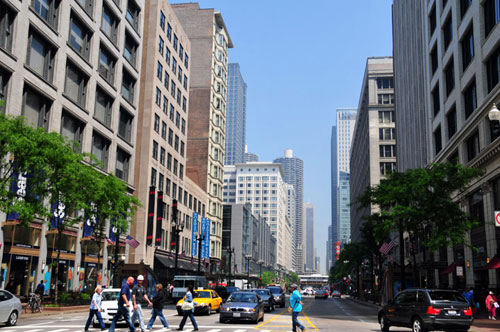 It took a few days into my vacation before I began consciously noticing Chicago's walkability. It hit me while I was strolling through the downtown core, touring the city's numerous skyscraper icons. I noticed urban amenities, like public transportation stops, restaurants and stores, were typically clustered within close proximity to each other, providing services for residents and visitors. Streets were scaled at a large enough width to allow automobile traffic to flow without being overly congested, but not so wide as to render urban blocks as veritable islands (Chicago passed the Jaywalker Test: if locals routinely jaywalk, it means the streets are pedestrian-friendly and not overly wide). And most conveniently of all, places of interest--such as parks, museums, and commercial centers--were located relatively close together, so that if all other modes of transportation failed, it was still not overly inconvenient to reach these locales on foot.

All of this provided an exciting experience for me, a traveler in a new city. I loved being able to walk from the Sears/Willis Tower, on the west side of downtown, to Millennium Park, located next to Lake Michigan, in less than half an hour. I reveled in the vibrant pedestrian experience of the Magnificent Mile, Chicago's answer to Paris' Champs Elysses. Even trips that didn't go as planned, such as getting lost and inadvertently walking 2.3 miles from Wrigley Field down to the Lincoln Park Zoo because I thought the zoo was closer than it was, were not as harrowing as they could have been, because the distances between attractions was ultimately not that great. That particular experience proved to be a very interesting hour, but 30 minutes later, I was already at the John Hancock Center, an additional nearly two miles south (where I had planned to be that evening anyway). And as I contemplated how relatively easy it was to get from place to place by even the slowest method of transportation, I realized that this aspect of the city provided a major advantage for residents.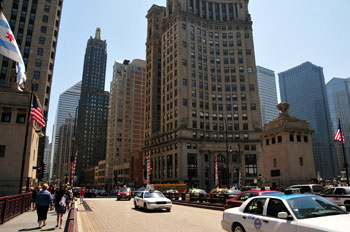 The fact remains that traveling on foot is the most direct, engaging, and effective way to interact with, absorb, and know a city and its inhabitants. By those means, cities that make this easier naturally attract people to live there, which in turn generates a vitality and energy for urban spaces. Ideally, the necessities of city living are integrated into the urban fabric, rather than scattered out among a series of far-flung nodes, so that even via something as "old fashioned" as foot traffic, it is not too difficult to get to wherever a resident needs to go.

All of this delivers a testament to the efficiency of a densely developed city that is able to provide easily accessible conveniences and resources to its residents. This attracts people, which maintains a bustling social environment, which sustains growth. In the end, what might, on the surface, be touted as a novel, green-thinking philosophy actually turns out to be a tenet that should be a basic aspect of urban planning. And the Windy City provides a solid model for others as to how this type of design can be done.
Albert Lam is a Technical Designer at California-based LPA Inc. He is a LEED accredited professional who specializes in the design and implementation of K-12 schools.