The People Choose Sustainable Design
This year, LPA chose to participate in Project Playhouse –an annual fundraiser for HomeAid Orange County in which teams design and build decadent playhouses that are auctioned off with the proceeds benefitting the homeless in Southern California.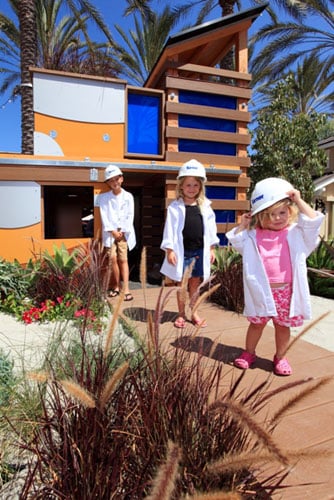 A panel of jurors examined the playhouses, there are seven total, and designated awards accordingly. What awards did our Ocean Adventure Lab take home? Plenty.
Best Modern Design
Best Team Spirit & Community Outreach
And drum roll please, the People's Choice Award –the only award selected outside of the jury panel, determined by votes.
"The people chose green. How cool is that?" asks Keith Hempel, an LPA architect who was part of the team that designed the Ocean Adventure Lab. "Each of the entries are put together with a lot of thought, care and detail, and the community made it a point to highlight a playhouse with a message and an educational purpose."
The Ocean Adventure Lab is 100 percent about learning and having fun. Children are active participants in getting to know more about the ocean and clean water, sustainable building strategies and materials, and even, contemporary architectural design.
The lab stands out amongst the other six entries. Sustainably designed facilities tend to do that. Letting nature guide the organic design process produces fresh and timeless architecture –or what we like to call, true regionalism.
The Ocean Adventure Lab was created in partnership with Turner Construction, ProRepro and Tangram Interiors. LPA performed the architectural design, engineering, interior design, and landscape design for the net zero playhouse.
A huge thank you is expressed to the additional contributors, who generously donated everything from the landscape to the photovoltaic panels to the playhouses' website:
Acro Energy, AZ Metal Manufacturing, Bravo Sign and Design, California New Craft Products, Inc., California Sheet Metal Works, Darco Engineering, DMA Greencare Contracting, Inc., EJ Growers, Eppink Of California, Inc., Frankly Made, Inc., Fuscoe Engineering, Inc., Giroux Glass, Inc., Golden State Framers, Green Metal USA, llc., John Jory Corporation, Laird Plastics, Laminate Creations by Hand, Lawrence B. Bonas Co., Morrow-Meadows Corporation, Murray Company Mechanical Contractors, Ocean Institute, Ortco, Inc., Performance Lighting Systems / Bruck Lighting, Plant's Choice Inc., Preferred And Associates, Prudential Lighting Products / MP Lighting, Rountree Glass, S & R Metals Inc., Saddleback Waterproofing, Southwest Boulder & Stone, Tangram Studio, Trex Company, Type Studios, USGBC Orange County, Villa Root Barrier, Walter Pouchot, and W.H. Steele Co., Inc.
For a complete list of sustainable features or to learn more about Project Playhouse, please visit the Ocean Adventure Lab's own personal site at OurProjectPlayhouse.com.