Lessons from Chicago: How Public Transportation Drives Urban Density
Having grown up my entire life in Southern California, I find it refreshing whenever I visit a city that makes it easy to get around without the use of an automobile. Among the list of such major U.S. cities, Chicago definitely ranks at the top. With a dense network of light rail and bus routes, the Chicago Transit Authority operates one of the largest, most popular, and most efficient public transportation systems in the country. And after spending 10 days in the city, I would also definitely rank it among the best in the world.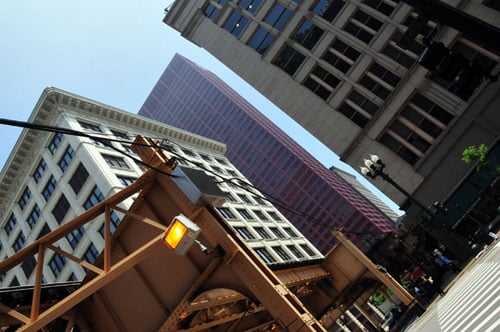 While buses make up a sizeable majority of the CTA system, connecting users across a wider area of neighborhoods, it was the light rail service, or The 'L' that impressed me the most during my stay. With more than 100 miles of track through eight lines radiating from the dense city core to numerous outlying suburbs, The 'L' has clearly been a driving force that's helped shape Chicago's densely built-up urban center and yield an urban density and vitality that is among the best in the world. It is a fantastic city amenity that provides a solid, reliable alternative to driving, serving many top destinations and sites. I discovered this immediately upon arrival when I took the Blue Line from O'Hare International Airport to a stop less than a mile away from my friend's apartment. Had I flown into Chicago's other airport, Midway, I would have found the Orange line at my disposal. In addition, throughout my time in the city, I made frequent use of The 'L' to visit a variety of places of interest, as far west as Frank Lloyd Wright-made-famous Oak Park to Wrigleyville to the north and the University of Chicago and Museum of Science and Industry to the south. The 'L's convergence at The Loop--essentially Chicago's downtown core--also enabled me to quickly and conveniently reach many destinations within and around the city core and enjoy a unique, elevated view of the urban fabric, above the streets but between the canyons of towering skyscrapers on either side.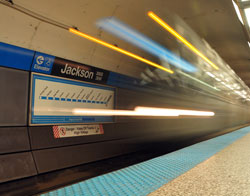 While all of this is definitely convenient for a tourist, statistics on light rail use also show that The 'L' is indeed a true, often-used amenity for Chicago residents. Over 1.5 million riders take the rails every week, a figure that has steadily increased over recent years, undoubtedly spurred by increased attention toward the practical and green urban benefits of light rail. The 'L' is one of the few U.S. systems that offers 24hr service on at least some of its lines (in this case, the Red and Blue lines), and the use and extent of the system rank second in the country only behind New York City. In 2005, local residents even voted it one of the Seven Wonders of Chicago. Clearly, Chicagoans consider it an indispensable part of their daily lives.

Furthermore, its spoke-hub distribution layout inherently promotes the urban density that leads to a more efficient and sustainable community. There's a very clear correlation between the density of 'L lines and the density of city development. The recent trends of increasing ridership also relate to recent trends of urban neighborhood revitalization: the North Side, which saw a prominent building boom before the downturn in the economy, also saw an increase in riders during the same time.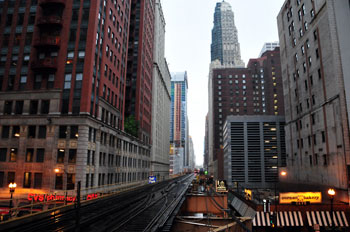 Shifts in ridership increases toward lines to the south parallel growing construction activity in the same area. And it's pretty obvious why this occurs: offering public transportation within quick access of where people live and work is a priceless commodity of exceeding convenience. And The 'L' does exactly that.

Of course, it took time to get here. The first 'L' train began operation well over 100 years ago, way back in 1892. Like other great, international cities that offer such amenities, it has taken Chicago's light rail system decades of planning and expansion to form such a useful and catalyzing network of public transportation. But the results speak clearly: compared to other cities that lacked such foresight and still struggle to revitalize their city cores, Chicago has a bustling downtown, an invigorating urban density, and a certain energy about it that speaks of its centralized development over the years. And the Chicago Transit Authority continues explore new routes and extensions in order to keep up with the demands of the future.

I firmly believe Chicago's growth has been tied to the proliferation of its public transportation system. Its yielded rewards today are the result of years of investment. Hopefully, in today's increasingly sustainability-minded society, other cities will adopt this same type of thinking to attain the same type of result.
Albert Lam is a Technical Designer at California-based LPA Inc. He is a LEED accredited professional who specializes in the design and implementation of K-12 schools.