Green Higher Education Environments Work Harder and Smarter
Note from Editor-in-Chief, Dan Heinfeld: Recently, this article was printed as a "Trends in Green" column for College Planning and Management magazine. It's simply too good not to repost for you, our loyal supports. May you enjoy.
Trends in Green: Green Designed Environments Work Harder and Smarter
By Glenn Carels, AIA, LEED AP
As humans, our love affair with nature is centuries old. People are attracted to places they have a connection. Sustainable design or 'good design' as we call it, teaches a very essential thing –spaces are better when they are in balance with nature. The truth is this organic kind of design approach surpasses higher test scores, and healthy indoor environments. Architecture that stimulates senses invites all visitors to stay. Really good design –or green design—is a strategy for growth.
DESIGN MATTERS
Green designed facilities can and should create measurable value for your campus. Increased enrollment, easier recruitment –where the finest instructors now come to you, and higher rates of retention –students stay on campus longer which keeps revenue onsite as well. We have a client in Ontario, Calif. that experienced all of the above, within one year. It's simple economics and it's beyond creating a wonderful built environment. If your facility doesn't produce a financial advantage, then the mark has been missed.
The general public still looks at sustainable design as list of bullet points, a scorecard per say. And what's at the top of the list? PV panels (also referred to as photovoltaic panels). And those cost money because in essence, you're purchasing decades of power upfront. So, to the public, green design means PV on your roof, which costs more. The important thing to understand about this misconception is that it's really not about the PV; it's about what's holding up the PV and that's your building. How has your building been orientated? How have your site's natural gifts been incorporated, from sun, wind, and water? How efficient are your systems and fixtures when it comes to energy and water efficiency? A lot of this is just good design and none of it should cost more.
"Study nature, love nature, stay close to nature. It will never fail you," said Frank Lloyd Wright. What he describes in a nut shell, is an organic-based design process. Not that all surfaces have to be made of natural materials or that every wall needs to be curved or mushroom-shaped, or things like that. But it's about the senses and architecture that stimulates these senses. Decades ago, we started sealing up our buildings, putting reflective glass on them and pumping conditioned air in. This started to dull our senses and indoors and outdoors became vastly different. There is something wonderful and empowering about being in nature. You feel alive when all of your senses are stimulated.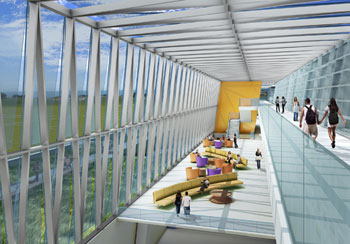 UNCOMMON SENSE
Want to know how to get students to invest their time and money in your campus over the next several years? Provide more than great programs and resources. Provide an environment that connects with them on an emotional and sensory level.
Architecture should never require a special understanding to "get it," because it deals with reactions we experience as a result of our humanness. When we meet with students that have occupied our spaces the thing that is very surprising is that they appreciate the "feeling" of the space over individual design elements. They often have difficulty articulating what it is that evokes that feeling, but for us, that's the greatest compliment. It's a similar response to what is evoked from nature. When one walks up to the Grand Canyon, yes, it's naturally beautiful but if I asked you to tell me why it's beautiful, it may be difficult to communicate with one word –and that's the essence of great design.
REAL SIMPLE RESULTS
The higher education experience has always been characterized by openness and opportunity; it represents a gateway to a better life and the physical environment of a campus should reflect that. In a time where institutions are shutting down or reducing the amount of hours facilities are available to students –thereby decreasing availability and openness—we look to good design for fresh and creative ideas.
A practical solution, is the merging of indoor and outdoor spaces. From a planning perspective, we get flexibility. From a maintenance perspective, it means less interior space that needs conditioned air. And from a financial perspective, less conditioned air means energy savings for budgets that are already stretched thin. Sustainable design is more than that score card addressed earlier; it finds ways to do the simple things better while again, yielding measurable very tangible results.
When students use words like "inspiring" and "intriguing," to describe their sensory experiences to our built environments, then we know we've done a good job. For them to feel welcome, at home, and inspired as a learner is the ultimate success for a higher education architect, engineer, interior designer or landscape architect.
Glenn Carels is a Design Principal at California-based LPA Inc. As the California State University system moves toward greener campuses, Carels has played a critical role in the implementation of their sustainability guidelines and initiatives. During his 25-year career, he's garnered 37 AIA awards for his sustainable design work.