The Re-Birth of the Santa Fe Springs Library
Mon, Aug 09, 2010 Jim Wirick Rick D'Amato, Chris Lentz, Library Design, Santa Fe Springs Library, Civic Architecture, Jim Wirick, Today's Learning Environment, Jessie Craven, Wendy Crenshaw, Mario Hernandez, Rene Cruz, Angela Chiang, Craig Shulman, Jill Kramer, Gus Puertas, Library Renovation, Building Reuse
In 1961, Santa Fe Springs was on the rural outskirts of Los Angeles. It was a land of oil wells, citrus groves, and dreams. In a stroke of wonder, the City was able to attract a Los Angeles architect to the town to design a civic center that would stand the test of time.
William Pereira did so as he would do for so many upstart and young cities in Southern California. The center would pay homage to Wright's textile block and Hollyhock House, with a neo-Aztec frieze wrapping around the fascia. Pereira would become better known for his master plan of UC Irvine and the Transamerica Tower in San Francisco. Both his civic center and the City of Santa Fe Springs would age well but age nonetheless.
In 2007, the City of Santa Fe Springs" target="_blank">City of Santa Fe Springs hired LPA to renovate the library. Everything had changed from 1961: technology, energy efficiency, demographics. While the City was unsuccessful in obtaining Library Grant Funds from the state in 2004, they were determined to give their citizens a better tool for learning. There were, however, a few constraints.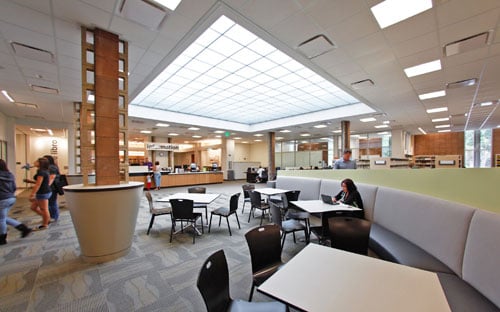 We could not add square footage.
We could not change the exterior.
We could not go over the budget.
And since the majority of the City Council had gone to the library as children and teens, we needed to 'weave the new with the familiar' in order to have their blessing, and their votes.
Not a problem. LPA's expert library design " target="_blank">expert library design team of Rick D'Amato and Chris Lentz had done this before.
While Chris addressed the functional needs in a beautiful way, Rick brought visual excitement to the space using contrasting colored free form elements that announce the library's functions inside with similar forms at the outside reading gardens. The exterior gardens expand the programmable space for reading programs, poetry sessions, gatherings, and receptions.
Wendy Crenshaw, with Mario Hernandez, Rene' Cruz, and Angela Chiang corralled all the information into the documents and, with an assist from Craig Shulman, was able to deliver the project on time and on budget. The contractor was Erickson Hall. Jill Kramer oversaw the furniture implementation, adding the final LPA touch.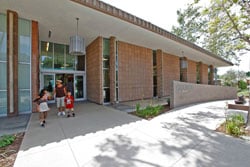 Meanwhile, Gus Puertas and Jessie Craven were able to work with D'Amato's vision to refocus the entry and renew the gardens.
A large central skylight was maintained but was re-glazed with "sky-blue" panels to control the heat gain and light within the library. New ceiling and energy efficient lighting coupled with natural lighting controls create an energy efficient solution for the entire library space. Sustainable and durable materials are used throughout the library with terrazzo and carpet for floors and rapidly-renewable bamboo casework as accents. Crenshaw incorporated a very fine series of ever-changing, illuminated 'light blocks' in the periodical reading area. New computers and library stacks recalibrate the provision of tools for seeking information in today's learning environment" target="_blank">today's learning environment. A new literacy lab will help people of all ages in their reading and speaking skills.
One of the curved walls changes from high to low as it wraps around the Children's Reading area that is illuminated with soft, natural light from above and from the new dual glazing from the side.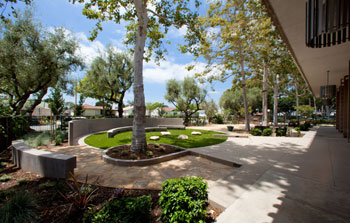 The Library joined a program with Los Angeles County Museum of Art (L.A.C.M.A.) to employ a revolving art program that brings in beautiful, original works of art into the facility. Wonderful, abstract paintings are placed on the original earth-toned block walls that really work well aesthetically as well as teaching the patrons about the world of art. The result is invigorating to the soul.
On the practical side, the office area was completely renewed allowing the staff to work more efficiently and to increase the standard of service the citizens deserve.
The result was the Re-dedication Ceremony on Saturday, July 31, 2010. A few hundred people gathered to celebrate the re-birth. Speeches were made and food was consumed. Kids lined up for library cards and adults lined up for blended ice-coffees. The citizens were invited to read more deeply, to learn more passionately, and to dream of things never thought possible before.
As for the LPA team, it was a day that reminded us why we do what we do.
We get to create sustainable spaces and places that enrich lives, and this brings us joy.
Jim Wirick is a Principal at California-based LPA Inc. with more than 25 years of experience in Civic Architecture" target="_blank">Civic Architecture (i.e. city halls, libraries, police and fire stations, and recreation facilities). He is a LEED accredited professional, and active member of the American Institute of Architects (AIA). His enjoyment of architecture is contagious and he lectures often for various schools and civic groups in California.
LINKS
http://www.santafesprings.org/library/default.asp
http://www.santafesprings.org/library/library_renovation/default.asp
http://www.santafesprings.org/depts/community_serv/library/literacy.asp
http://www.santafesprings.org/library/support_the_library/friends_of_the_library.asp
http://www.oac.cdlib.org/institutions/Santa+Fe+Springs+City+Library