Library Design Secrets: Part 2
Welcome to Part 2 of our multi-part series about modern library design" target="_blank">modern library design. Senior Design Principal Rick D'Amato is back to share more helpful ideas and insights about the library design process, and the components involved with making it a successful community space. With more than 15 libraries under his belt, D'Amato is a wealth of information and we're grateful to feature his expertise.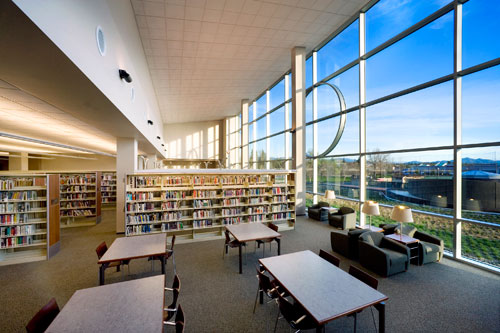 SECURE AND VISUALLY ACCESSIBLE
Visibility is the key to successful security systems and strategies within today's libraries. The more contiguous the space and the more direct visibility from staff areas, the better the opportunity to monitor and discourage inappropriate activity. While traditional library security systems concentrate on controlling theft through the use of electronic gates, the concern for today's libraries seems to focus more on the protection of children and the dissuasion and deterrence of anything or anyone that will harm them.
Security can also be handled through high technology systems such as cameras and video systems, and simple low technology systems such as well positioned mirrors and staff work areas. Creating a more open and visually accessible space also has the potential to reduce staffing needs within a library through consolidation.
A BREATH OF FRESH AIR
Libraries today seem to be incorporating more sustainable design features than ever before. This naturally leads to improved indoor air quality. Specific strategies such as displaced air systems" target="_blank">displaced air systems which release conditioned air from down low rather than high in the space tend to improve the quality of the air as well as control energy use and cost. Also, more organic and sustainable building materials and adhesives and sealers lead to less harmful off gassing.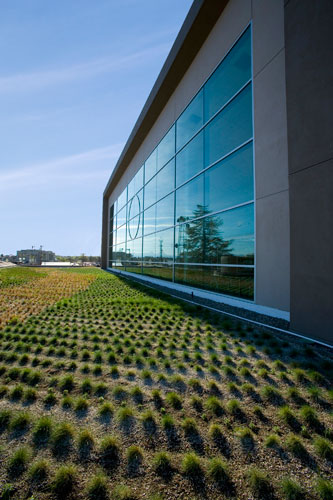 Today's libraries seem to have a better connection with the external environment in the form of outdoor gardens and large expanses of well protected glass. This all tends to result in a healthier environment. Today's mechanical systems can also adapt to the needs of the more specialized spaces within a library such as archival storage, technology rooms and large community gathering areas. These areas are typically more efficient if placed on a separate system which can be controlled independently of the rest of the library spaces. The result is each space within a library performing optimally instead of all of the spaces performing the same.
SUSTAINABLY DESIGNED AND RESPONSIVE
The advent of sustainable design has led to a much more efficient, open and pleasant library interior. The control and use of natural daylight is probably one of the most important aspects of smart sustainable design strategies" target="_blank">sustainable design strategies. The important thing to remember is that smart daylight control begins outside the building and should not rely on window coverings or tinting alone. Proper orientation is the key to a successful design. This combined with solar shades and awnings, and high performance glass leads to a pleasant daylit internal environment. Acoustics and the specialized nature of some of the more specific library spaces" target="_blank">library spaces is best handled through proper material selections and efficient mechanical systems which respond well to the local climate as well the demands of the library.
For more library design secrets, be sure to subscribe. In our next post, we'll ask Rick about media centers, library planning for changing technologies, trends in library storage, shelving, fixtures, and more.