Lessons from Chicago: A City Keen on the Value of Public Greens
As I quickly realized during my time in the Windy City, one of Chicago's greatest urban amenities is its waterfront parkland, open to the public to use and enjoy. Stretching miles along the shoreline and culminating in magnificent Grant Park, this land, deemed "public ground forever to remain vacant of buildings" well over 150 years ago, serves as a verdant front lawn for the city to Lake Michigan, providing a beautiful connection to nature right in the heart of the city, as well as popular congregation space for public events and large scale exhibitions.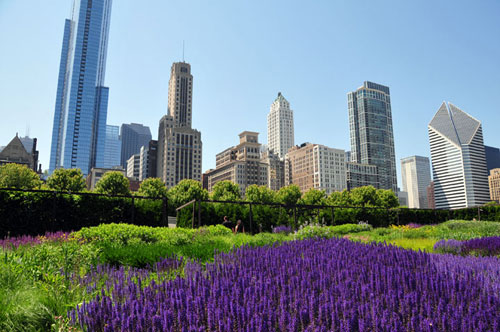 Unlike most major metropolitan cities, Chicago can boast that its waterfront was never tainted by the harsh hand of industrial development. The area along Lakeshore Drive never had to be salvaged from smoky factories or dusty shipyards and redeveloped into fresh, inviting public space; it was always open to the residents of the city. In the mid-1800s, foresighted citizens and planners successfully lobbied to protect the area east of Michigan Avenue free of development. Over the decades, city magnates like Aaron Montgomery Ward successfully sued to maintain that condition and preserve green space for the city. Today, the area around Grant Park remains relatively untouched by developers--the only exceptions being facilities devoted to public use, such as the Art Institute of Chicago, the Field Museum, Schedd Aquarium, and Adler Planetarium.
In my opinion, the rewards have been well worth whatever economic benefits that might have been lost from undevelopment. Today, Grant Park and its relatively new park-within-a-park neighbor, Millennium Park, function as the city's central gathering spot. These grounds provide a welcome respite from the urban jungle of downtown and successfully act as a vitalizing hub of public congregation. "Cloud Gate," Anish Kapoor's famous reflective bean-like sculpture, is a magnet for citizens and tourists alike, a place for strangers to revel in the appeal of something so novel and yet universally attractive. Nearby, off Michigan Avenue, the Boeing Gallery serves as an outdoor art exhibition space. Crown Fountain provides a popular splash down for families on warm, summer days, while Frank Gehry's Jay Pritzer Pavilion and Great Lawn functions as a fantastic outdoor concert and public event venue. Those seeking more tranquil reserves will find it to the south, at the Lurie Garden, where overgrown wildflowers and stepped streams impart the feel of a wooded meadow amidst the forest of skyscrapers that is the Chicago skyline. And that doesn't even include the acres of more traditional park space in the area and the waterfront biking and running trails--all of which is open to anyone who wishes to use it.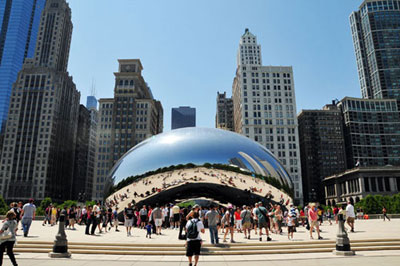 In a sustainability-conscious age where public urban green space of any sort is a valuable commodity, Chicago's "front lawn" serves as a pristine example of what can happen when urban planning gets it right. This marriage of landscape, architecture, and urban design is an obvious hit with denizens and visitors alike, and it demonstrates how the integration of a variety of programs devoted to public philanthropy can generate an energetic, self-sustaining property that enhances the value of a city. It is the right combination of location and design, and it teaches a valuable lesson on how positively designers can affect the built (and unbuilt) environment, as well as the numerous people who use it.
Albert Lam is a Technical Designer at California-based LPA Inc. He is a LEED accredited professional who specializes in the design and implementation of K-12 schools.