Lessons from Chicago: The Rewards of Green Foresight
Recently, I spent ten days on vacation in Chicago, Illinois, and in my customary fashion of travel, I tried to soak in as much as possible of what the city had to offer. Through visits to the top sites and attractions in town, stops through many of Chicago's architectural icons, and immersive pedestrian exploration through the urban fabric of the city, I discovered a fantastic metropolis bustling with infrastructure and amenities that befit a modern, advanced city. I began to notice how many of these items, set in motion by urban planners decades ago, paralleled aspects that urban planners advocate today for sustainable cities of the future. Among them: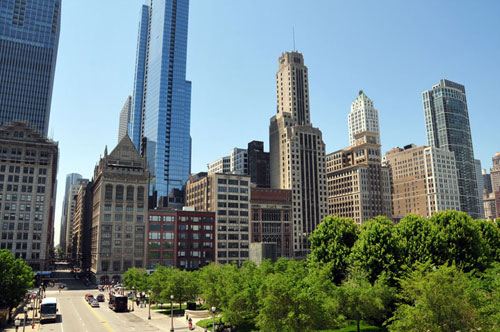 1. Public, Urban Green Space - freely accessible by anyone, providing a vibrant gathering area for major events and general park use.
2. Integrated Network of Public Transportation - efficiently serving the central core, but also radiating outward toward numerous major suburban areas.
3. Exceedingly Convenient Walkability - especially around the Downtown area, everything is relatively close together, allowing a full experience of the city by its users even without public transportation.
4. Programmatic Diversity Within Urban Density - zoning of every type is located close together, often integrally woven into the city fabric, providing a host of amenities such as commercial, residential, civic and cultural centers to promote continued use, residence, and growth.
Amazingly, these items weren't the result of the recent surge in awareness of sustainable issues, but rather the foresight of urban planners decades ago. As early as the late nineteenth century, after the Great Fire of 1870, city leaders laying out the new organization of Chicago were already trying to mold it into a forward-thinking city that would be prepared for the demands of tomorrow. Daniel Burnham's 1909 Plan of Chicago crystallized these plans into written and diagrammatic form. It called for the preservation of public green space along Lake Michigan, development of automobile and rail arteries to accommodate various travel demands of an expanding city, expanded streets that integrate the coming of new automobiles while still preserving the pedestrian intimacy of a busy city, purchased parkland around the city to buffer decreasing density, and a cultural district that could bring art, science, and history to the masses.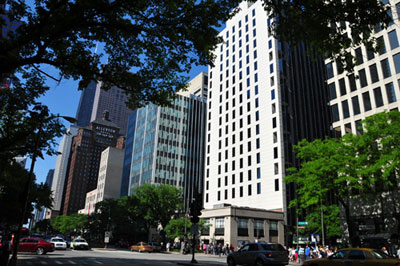 Today, Chicago is a truly international city that is managed with sustainable goals in mind. Grant Park, and Millennium Park, among others, provide a "front lawn for the city" that draws citizens together with vitalizing concerts and public venues as well as a verdant escape from the harshness of a concrete, glass, and steel built environment. The Chicago Transit Authority operates a highly effective system of subways and elevated rail lines that bring Chicagoans into and around the heart of the city. The density and programmatic diversity of the Downtown core and the Magnificent Mile invite businessmen to work there and residents to live there, propagating a sustainable cycle that drives itself forward. And there is always action toward active environmentally friendly policies, such as water management, energy reduction, urban heat island effect mitigation, and much more.
But none of this would exist to its contemporary degree of success without that foresight of city planners a century ago. It takes time to implement this sort of infrastructure, and even more to allow it to grow and perform its function. This suggests that we must always think ahead when planning our next projects. We cannot simply calculate for the present time; we must also calculate for the future. And we'll undoubtedly require inherently sustainable principles to reach that point. Otherwise, even the best-laid plans will be outdated before the first ground is dug, and that would defeat the entire purpose of architecture and urban design. It would be the opposite of progress.
Albert Lam is a Technical Designer at California-based LPA Inc. He is a LEED accredited professional who specializes in the design and implementation of K-12 schools.