Architect Spotlight: Brandon de Arakal
As part of a continuing feature on this blog, we'll meet each of the firm's associates and get their take on LPA,
architecture
, and of course, sustainable design.
BRANDON DE ARAKAL, AIA, LEED AP
Q. How long have you worked at LPA?
A. 25 years.
Q. What do you love most about your job?
A. Aside from working with one of the most talented and fun groups of people in the business, I find the quick pace of projects under construction always stimulating and with the myriad of twists and turns along the way, there is never a dull moment. Good stuff.
Q. What does a day in the life of Brandon de Arakal look like?
A. It typically starts with a quick trip to Rancho Santa Margarita Middle School (with the occasional side trip to the donut shop) to drop my daughter off at school. Then it's a visit to my good friends at Starbucks (Grande; Non-fat; No whip Mocha ... in case you were wondering) and once I get to the office it is the constant flurry of e-mails, phone calls and meetings that are inherent with buildings under construction.
Q. What project are you working on this minute? What does it entail?
A. Currently I am shepherding six new buildings, through construction, for the Paramount and Arcadia school districts. They cover the gamut of uses which include a library, mini-gym and field house for Paramount Unified; and a science building, lecture hall and student services building for Arcadia Unified. Most of the teams' efforts are focused on responding to RFIs, reviewing submittals, dealing with clients, DSA and general contractors.
Q. What do you love most about sustainable design?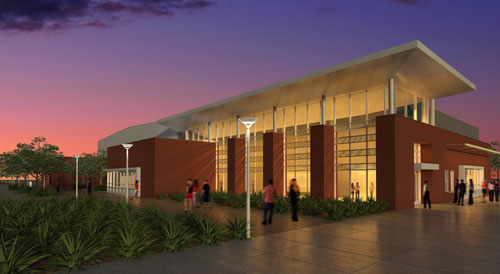 A. The most fascinating aspect of sustainable design to me is that it is really not a new concept. While in college, I had the good fortune of being exposed to two instructors that were heavily influenced by what was then referred to as passive solar design; James Lambeth and E. Fay Jones. Their emphasis, simply put, was about a building's exposure and orientation. The materials and equipment aspects of it, while important, were more difficult to manage 25 years ago because of the lack of support from the manufacturing sector.
Today, with society's heightened awareness of its impact on the environment, all aspects of the building process from design, construction, operation and the maintenance of a facility are integrated into what we refer to as sustainable design; which 25 years ago really couldn't happen. I think it gives the concept a tremendous amount of momentum.
Brandon de Arakal is an Associate and Architect with California-based LPA Inc. He has managed more than 25 projects, which include K-12 schools, higher education facilities, civic and religious establishments, and even a terminal at John Wayne Airport. He is a LEED Accredited Professional, and an active member of the American Institute of Architects. Brandon lives with his wife, son and daughter in Foothill Ranch, Calif.