Learner Responsive Environments Increase Opportunities
By Guest Blogger, Kimberly Coffeen, REFP, LEED AP
In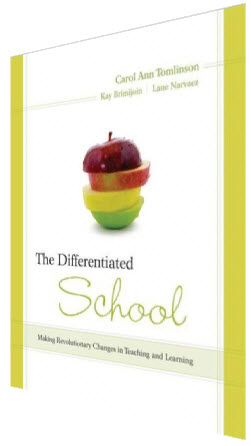 Carol Ann Tomlinson's most recent book, "The Differentiated School: Making Revolutionary Changes in Teaching and Learning," she suggests five teacher responses to the needs of students: invitation, opportunity, investment, persistence, and reflection. From a designer's perspective, here are a few thoughts and suggestions I had after reading the book.
HEALTH AND WELLBEING
The health and welfare of students is an issue which should be at the forefront of any educational space. Pairing diffused natural light, good indoor air quality and thermal comfort with a well ordered yet stimulating space is a great place to start. Teachers could respond to a student's sense of ownership by providing access to outdoor teaching spaces or gardens, and a dedicated place in the classroom to call their own. Cubbies, display areas for their work, and/or break out spaces for small team project areas incorporate this sense of ownership while also encouraging collaboration.
The schools of today are becoming more community centered with many housing wellness clinics, which stress preventive care and nutrition, and embracing after school park and recreation partnerships. The physical wellbeing of the student is an important component to any successful learning experience.
DIVERSE LEARNING STYLES
"When a student is missing the mark, a persistent teacher doesn't assume the student can't learn, but rather assumes the student is not learning in the way he or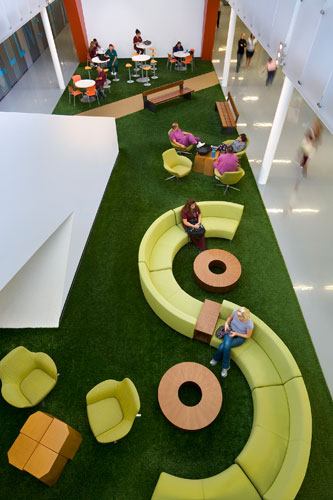 she is currently being taught," writes Tomlinson. How does this affect design for k-12 schools? Well, the design must allow for degrees of flexibility and diversity.
This may mean more diverse types of spaces such as small work areas off lecture rooms or groupings of educational programs into "learning centers" to allow interdisciplinary teaching. Along with room size, schools designers must address configuration and program adjacency issues. Are the teachers accessible and can they hold confidential meetings, if necessary? The design may build in different degrees of amenities such as technological capabilities; acoustic performance; visibility to the outdoors or rooms without windows; movable walls, and more, depending on what functions are needed to accommodate different learning styles.
21ST CENTURY EDUCATIONAL PLANS
Learning styles and individual differences should be considered in the educational plan and design of schools in the 21st century because research has proven that learning responsive environments increase student achievement. Ultimately, if the values and educational philosophy which shape the plan are based around a student-centered approach, the resulting design should support those values and beliefs.
For more on this topic, we suggest Understanding Green Schools, a complimentary webinar by Environmental Design + Construction magazine. On-demand until March 17, 2011.
Kimberly Coffeen is a Senior Educational Facility Planner at LPA Inc. She has personally managed eight district-wide Facility Master Planning processes and recently completed a yearlong graduate level course with a designation of Recognized Educational Facility Planner (REFP), through the Council of Educational Facility Planners International (CEFPI). She is a Registered California Architect, active member of CEFPI, and Chair of the Collaborative for High Performance Schools (CHPS) Green Product Database. In 2009, she co-authored "Green School Primer: Lessons in Sustainability."