Interior Design Spotlight: Patrick McClintock
As part of a continuing feature on this blog, we'll meet each of the firm's associates and get their take on LPA,
interior design
, and of course, sustainable design.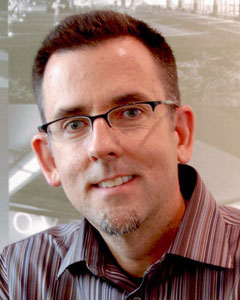 PATRICK MCCLINTOCK, LEED AP
Q. How long have you worked at LPA?
A. 16 years ... dang, I can't believe that it's been that long. I don't feel that old.
Q. What do you love most about your job?
A. I love working with inspired people that have a passion for challenging convention. I count myself as extremely fortunate to be associated with individuals and projects that are making a significant difference for people, and our communities.
Q. What does a day in the life of Patrick McClintock look like?
A. My wife is an early riser, so that means that I'm a (reluctant) early riser which works out well for a pre-dawn run. Nothing beats watching the sun rise over the Sierra Nevada. Being involved on projects between the Irvine and Roseville offices, gives me the chance to collaborate with so many brilliant folks. Needless to say, that translates into a day full of meetings, phone calls, video conferences, web-based meetings, and whatever else facilitates interaction. A typical day results in me saying the same thing, "I can't believe that it is already seven o'clock." The phone stops ringing, the e-mails taper off, and the real work begins.
Q. What project are you working on this minute? What does it entail?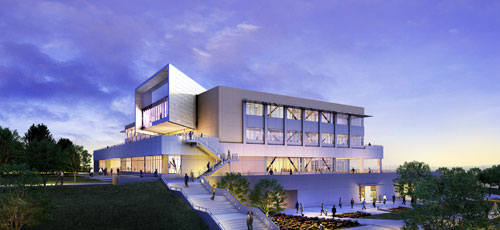 A. Currently, I'm working on the College of San Mateo College Center which is a 140,000-square-foot, full service ground up project that is pursuing LEED Gold certification. The center will transform how higher education is delivered to students. Being so bold as to co-locate student dining, the campus bookstore, learning center, student services, classrooms, faculty and administrator offices (just missing the kitchen sink), into a single building is what won us the project. However, it's the impact that the project is having campus wide (and it's still under construction) that is amazing. Students and faculty are already commenting on the unique campus synergy that the "one stop center" will have on the educational experience.
Q. What do you love most about sustainable design?
A. I love that sustainable design is honest; it's not about adding costly layers of stuff that cover building structure and systems, but about partnering innovative ideas and disciplines that create form and space which in turn promotes a purposeful, simpler is better approach. At LPA sustainable design brings everyone (clients, architects, landscape architects, interior designers, engineers and contractors) to the table, and provides a common vocabulary that allows us to create more comprehensive and meaningful projects ... who wouldn't want to be involved in that?
Patrick McClintock is a Senior Interior Designer who leads the interior design efforts of LPA in Northern California. He has worked on more than 70 projects, which include corporate offices, community centers, K-12 schools and higher education facilities. Patrick is a LEED Accredited Professional who lives with his wife Amanda and dog Ludwig in Sacramento, Calif.