Joint-Use Facilities: A Great Way to Integrate the Community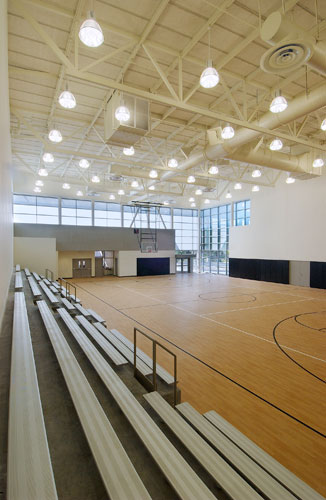 These days, more and more schools are embracing the concept of
joint-use facilities
. Just what is joint-use? Well, it's a lot like what it sounds. Joint-use refers to a school facility, such as a gymnasium, library, or theater that is shared between the school and the local community. During regular school hours, the facility is used primarily by students and teachers for typical class time activities. After normal school operations cease, however, the facility is then opened up for general public use, typically during the later afternoon or evening and weekends.
This makes a lot of sense. During the daytime, most people are working or otherwise preoccupied, and reserving facility use for the school fits within the school schedule. By the time most people are free for recreational activities, these facilities are also free to host them, having finished with the school day. Isn't it neat how the availability fits the user? In a nutshell, joint-use effectively doubles the usability of a building. For communities-especially smaller ones-such facilities provide an efficient and economical amenity for the general population. Instead of building a separate library or theater or gymnasium, everyone can share!
The sharing crosses over to finances as well. Joint-use facilities are typically partly funded by the city in which they're built, reducing immediate economic burden to the school district. And, as eluded to before, the city doesn't have to pay the cost of a full new building. Agreements can be worked out to divide the payment of utilities and operating costs as well. The result is an integrative and quite sustainable manner of providing conveniences to the neighborhood.
Such benefits are not without their complications. The biggest issue tends to be security. Many schools operate under a closed campus system, so that students can be properly monitored and campus grounds can be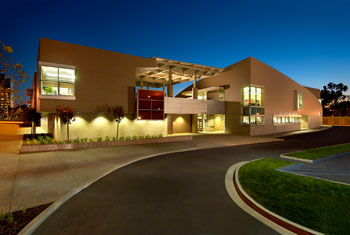 patrolled. Once the school day is over, the school is traditionally gated up. Schools with joint-use facilities, then, must be carefully designed to provide access by the public after hours without allowing people to enter too far into school grounds. This requires careful programming to lay out the best sequence of spaces, not to mention inter-disciplinary cooperation between the building designers and the landscape architects to control access in and around the site. Open discussion between the designer and school officials should also occur frequently, and concerns from the local community should be taken into the consideration of building and site design.
In addition, school designers must also now consider that the building users are no longer just the population of a school, but also of a city, so additional programmatic requirements and design nuances may come into play.
Nevertheless, this provides a great way to tie a community together and make school an even more important part of residents' daily lives. As social trends move toward maximizing efficiency and unifying communities, joint-use facilities will become an even more vital and regular part of school design-and community design as well!