Architect Spotlight: Steve Newsom
As part of a continuing feature on this blog, we'll meet each of the firm's associates and get their take on LPA, architecture, and of course, sustainable design.
STEVE NEWSOM, AIA, LEED AP
Q. How long have you worked at LPA?
A. Six fantastic years.
Q. What do you love most about your job?
A. I love the energy, enthusiasm and talent I'm fortunate to be exposed to. Constant improvement and self-imposed challenges make LPA the greatest place to work. I feel that LPA is always evolving and developing. We have a perpetual energy that creates a "buzz" in the office.
Q. What does a day in the life of Steve Newsom look like?
A. Up before dawn, in at 7 a.m., coffee by 7:10 a.m. and then a fast-paced day of phone calls and e-mails to keep the team going. A few meetings and then I stop and wonder where the day went. I then head home to baseball, soccer and Cub Scouts. Peck the wife and kids on the cheek, kick the dog and do it all over again ... only better the next day.
Q. What project are you working on this minute? What does it entail?
A. Right now we're designing and building Career Technical Education (CTE) projects in South Lake Tahoe, solar panels in Davis, tenant improvements in Alameda, additions and modernizations in Lincoln, field lighting in Sonora and seismic repairs in Eureka. Every one of our school district clients keeps us hopping with different challenges each day.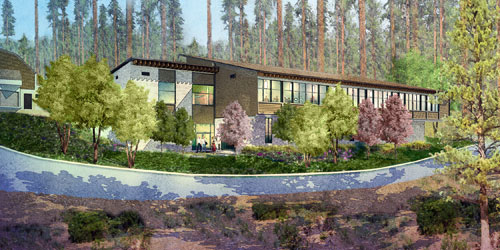 Q. What do you love most about sustainable design?
A. I love the fact that sustainable design connects people to the built environment more than ever. And creating spaces and places that enrich lives ... goes hand-in-hand with that. I've always been fascinated by the way things work - I even taught auto mechanics as a high school senior. Sustainable design stimulates that area of my brain.
Steve Newsom is a K-12 Project Director at California-based LPA Inc. He was worked on more than 30 schools, for more than a dozen school districts. He is a LEED Accredited Professional, member of the American Institute of Architects and Board Member and Chair of the Architect's Committee and High Performance Schools Committee for the Coalition for Adequate School Housing (C.A.S.H.).