Sneak Peek [real] building ...
And when I say real, I mean it's finally getting built. Seeing the countless hours of design, development, coordination and sometimes frustration finally come to fruition is one of the most unbelievable and rewarding feelings. Words can't really explain it.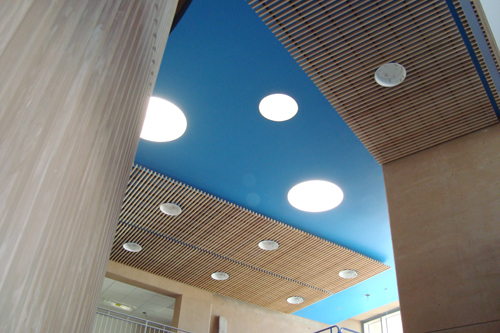 Sound crazy? Not if you've burnt the midnight oil drawing and designing away.
In fact, just the other day, our Construction Administration Guru, Mike Henning, was away on vacation. Which I love ... only for the simple fact that it gives me the opportunity to fill in for him at construction meetings and step into the "real world," away from my computer screen, trace paper and niji pens. For once I didn't mind getting up at 4:30 a.m. to catch a plane headed for Oakland, Calif., eager to get a visual update on the Instructional Office Building (IOB) at Chabot College.
The Chabot IOB is a two-story, cast-in-place concrete structure with glass, tile and composite lumber as exterior infill materials. The building represents a living commitment, made by the College, to environmental responsibility and green building. Four division suites, faculty offices and instructional conference rooms are housed in the 36,950- square-foot facility, along with a new courtyard between two existing buildings. The repetitive nature of the programmatic elements allowed for an efficient floor plate while also minimizing building height.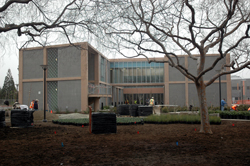 The IOB takes advantage of the mild climate in the bay area and features a naturally ventilated lobby, designed as an extension and culmination of a new campus courtyard. Passive and active mechanical and electrical features maximize energy efficiency and allow the building to exceed California's stringent Title 24 requirements by more than 20 percent.
As I walked the building --up and down, end to end-- experiencing each space, I looked for details and ideas conceived by our team. And saw them now, as concrete moments not just lines on a screen. One learns so much by actually observing how things are put together, and how the contractor works and thinks. It ultimately makes you a better designer. As you can see below, the IOB puts to practice many sustainable concepts which will help it achieve a LEED certification. Which level you wonder? We'll keep that under wraps for now. It's an incentive to stay tuned for updates.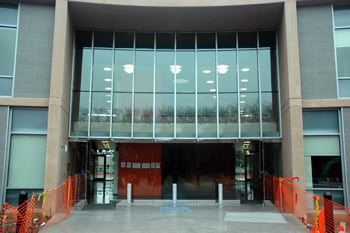 Sustainable Design Features:
Construction waste management
Drought tolerant planting
Pervious paving
Collection and storage of recyclables
Reduced water consumption (low-flow fixtures)
Natural light provided to 95% of occupied spaces
Access to views provided to 95% of occupied spaces
90% of exterior surface (concrete and tile) will require no annual maintenance (reduction of building materials)
Reflective cool roof material to reduce building heat gain
Naturally-ventilated, two-story lobby
Green housekeeping products and procedures
Light pollution reduction
Motion Sensor lighting systems
Low emitting materials - minimizing VOC off-gassing
Ozzie Tapia is a BIM Modeler at California-based design firm LPA Inc. He uses BIM application tools to activate, study, and inform project designs for Higher Education Facilities. Tapia is a LEED Accredited Professional and active member of the U.S. Green Building Council.