Building a Brand for Public Education and K-12 Schools
We all know the importance businesses place on "branding." Disney is a classic example. They build their brand by making sure everything they do, say, sell and build reinforces the company's values and goals. By brand, I don't mean a trademark, a logo, or a particular style of design.
A brand is a visible manifestation of a company's identity and values that is visible in everything they do. Even if you never set foot in a Disney theme park, which is unlikely because of the prevalence and strength of their brand, you'll still recognize their brand and its meaning. When budgets get tight, communicating the brand becomes even more important. In a harsh, competitive environment the brand differentiates a company from the rest of the market and can protect and grow revenue, as it ensures the company prospers when better times arrive.
Public Schools also need to build and protect their brand, especially in times of stress. Many people who live, vote and pay taxes in a District never set foot in a public school. Some are retired. Some don't have children. Some send their children to private schools. They are still stakeholders in the community and their support for Public Education is critical for the ideal of public schools to flourish. One way to build that support is to build a District brand that demonstrates District values to the community.
Here are some ideas to help a District build their brand through the facility planning and design process:
1. A vision for the future is the basis for a recognizable brand.
Develop a long term vision for the future of education in your community, then work to ensure that everything built supports that vision. For example, if sustainable design is a District core value, communicate sustainability through your facilities improvements in ways that can be seen by all stakeholders.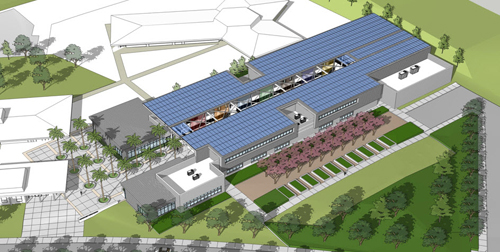 Installation of photovoltaic panels, rainwater collection and distribution systems, wind generators, green roofs and bioswales are all sustainable design elements that not only improve the environment and save on operating costs, they also speak to the community about core District values and the fact that students are learning valuable lessons about being responsible members of society. Celebrate these elements in your designs and let them be seen.
When adding to or renovating an existing school, think about how construction dollars can be used to satisfy priority needs while improving the appearance of the school. A school may need air conditioning. New air conditioning systems may improve student performance and comfort, but will the public who never sets foot in the school see the improvement and connect that improvement with stewardship of tax dollars? At LPA we often recommend putting a percentage of those dollars to work in a way that is visible to the public. One idea might be creating a single point of entry to improve security combined with an attractive entry canopy and signage. We frequently recommend locating new or renovated construction elements on the public side of a project to give the appearance of transformation from the street. This communicates transformation and progress to the public in a way that maximizes the value of every dollar spent.
3. Use Landscape Creatively.
Construction projects at schools typically trigger a need for handicapped access upgrades. Rather than approaching these from a utilitarian standpoint, think about combining them with landscape, lighting and paving upgrades that renew the image of the school from the street. Landscape improvements are an economical way of improving the appearance of a school. They invite people into the school. They say the District cares about the quality of the learning environment, and create a sense that the school is part of the fabric of the overall community.
A truly inclusive process that makes the whole community an active participant in establishing the direction of facilities improvements can be an effective way of communicating and building broad support for the District's vision. Communicate early regarding upcoming District initiatives. If there is community opposition, take it seriously and try to address root concerns. Invite the stakeholders to offer their own solutions so those can be evaluated and discussed. By putting community members in a position where they have to work constructively toward finding solutions, complaints can be defused. A long term pattern of collaboration can build trust. That reputation will become part of the overall District Brand.
Construction projects at school Districts are about more than "nuts and bolts." They inevitably, are part of the complex web of communications between the District and the community. Use them as opportunities to build the District's brand sentiment and build support for the transformation of public education in your community.
Donald Pender, AIA, REFP has more than 28 years of experience managing large, complex projects and is currently in the role of Principal at California-based LPA Inc. He is a LEED Accredited Professional responsible for the creation of more than 50 K-12 schools.
Photos: These renderings depict Montgomery Middle School in Chula Vista, Calif., the first LEED Platinum K-12 school in the state.