Lego Architect Series: A Kid-Architect's Dream Come True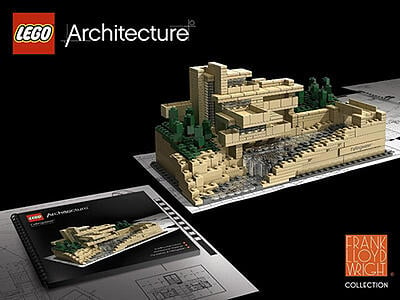 Remember growing up and playing with Legos? I and probably every other person I know in architecture do. Legos were the ultimate building tool, capable of making the most advanced space ships, powerful vehicles, impressive buildings, and incredible cities. As a child, everyone I knew loved Legos, and this never seemed to change. In high school, whenever a conversation with friends happened to shift upon Legos, everyone would gleefully reminisce about their days making fantastic structures out of those awesome little building blocks. I even had a friend in college who used Legos to make a massing model for a project! Not the most refined material, perhaps, but it worked for the design concept. No doubt Legos played a supporting role in my growth in appreciation for architecture.
Well, when I recently found out that Legos has an architectural series featuring such famous buildings as the Space Needle, the Empire State Building, and Frank Lloyd Wright's Falling water, the child in me practically exploded with delight. Although I had plenty of Legos as a child, I never had any sets geared toward architecture. Now that there's an Architectural Series, I'm imagining a whole new generation of children discovering the wonderful joys of architecture, getting interested in architecture, and become the future's architects. All thanks to Legos. After all, there's no better method of education than when it's made into a game or a toy.
And that got me thinking ... I and many of my friends can point to Legos and say they did help, at least in part, inspire an appreciation for creative design and structures. So that would suggest that Legos can be used as learning tools, as the Architectural Series already sort of does.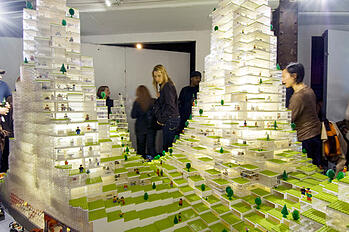 The sustainable movement can always afford more publicity, so what if we could somehow tie an environmentally-conscious architectural building set with a Legos series? Call it the "Legos LEED Series." It already has a nice ring to it, right? Imagine a group of Legos sets that both feature and enlighten about integrated sustainable design. There could be a variety of exterior sun shade elements to offset energy loads, bike racks and shower rooms to encourage more sustainable transportation, green roofs, bioswales, and micro-irrigation systems for better water management. There would be a bus stop that children could assemble and place at a location scaled to less than a quarter of a mile away, plus skylight and daylighting systems to put together in order to reduce lighting loads. Talk about a cool kit of parts to create whatever the imagination desires! Children would be exposed to these concepts from an early age, and by the time they grew up to become designers, such holistic design ideas would be normal, logical, first choices to include in any building being constructed. Architecture would become greener, and the world would be saved-all thanks to Legos. USGBC, you've got a brilliant marketing alliance on your hands. Ball's in your court!
... or maybe that's a little bit of exaggeration. But I think we can definitely agree that Lego versions of some of the world's most famous buildings are definitely a cool thing, and they will undoubtedly procure more future architects. And you never know ... any toy that has surreptitious educational value can certainly be used for great good.
Albert Lam is a Project Coordinator at California-based LPA Inc. He is a LEED accredited professional who specializes in the design and implementation of K-12 schools.