National Sustainability Blog Does Green School Primer Giveaway
Jetson Green
, one of our favorite green building blogs, is giving away copies of the internationally recognized LPA Green School Primer.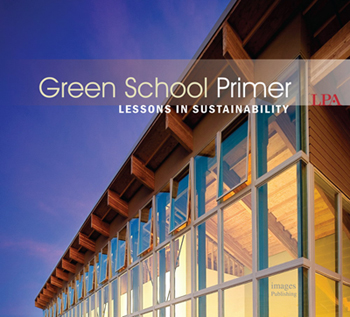 The book was written to address the growing curiosities of board members, teachers, students and parents concerning green schools, sustainable master planning, and eco-friendly retrofits. To be the recipient of the one of the primers, Jetson Green has asked readers to leave a comment in the comment section of the article. The feedback, so far, has been clever and thoughtful. Readers have made this experience personal.
What Jetson Green Readers Are Saying About the LPA Green School Primer
WANT! My grade school was made of corrugated metal. Far from inspiring for kids. It's time we give the kids something that motivates all the while providing a green environment and shelter from the elements. Would love this book. -ZeroThreeQuarter

This book sounds fascinating! I am on the board for an environmental charter school in my city. This book would be a wonderful resource. -Ddaisy

As someone who does research on the effects of the new generation of green schools, I can say that LPA and its school projects, Cesar Chavez Elementary in particular, are a great example of how to work within the tricky world of public schools and still come out with a great building that used some innovative funding and design approaches. A great addition to anyone's shelf that works with schools. I wouldn't mind having a copy myself ;) -LBaker
If you haven't had a chance to visit a green school, take a moment and plan a trip. They are some of the most interesting buildings. I love how so many of them actively try to integrate learning and the environment which the children spend so much of their time in. -Rhurley
A huge thank you to everyone who took the time to participate. The contest closes Friday, September 25, 2009 at midnight (MST). If you haven't left a comment, now's your time to do so. Readers may also purchase a copy of the LPA Green School Primer on Amazon.