LPA Principal of the Week: Karen Thomas
As part of a new feature on the LPA Integrated Sustainable Design blog, we'll meet each of the firm Principals and get their take on the firm, current projects and of course, sustainable design.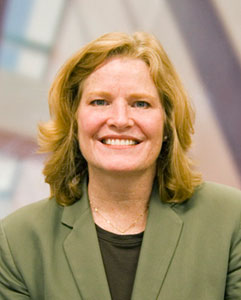 Karen Thomas, CID, LEED AP
Q. How long have you worked at LPA?
A. 17 wonderful years!
Q. What do you love most about your job?
A. The people!
Q. What does a day in the life of Karen Thomas look like?
A. 5:30 am cup of coffee with the Wall Street Journal....10 - 12 hour day filled with great interactions with clients, coworkers, consultants....then back home with my hubby of 26 years, and two rambunctious Lhasa Apsos.
Q. What project are you working on this minute? What does it entail?
A. I wish I could say...but I signed an NDA. Amazing project, challenging schedule, lots of fun, great client, fabulous team!
Q. What do you love most about sustainable design?
A. That it should allow the Earth to be a healthier place for my grandkids one day.
Karen Thomas has more than 20 years of experience in all areas of commercial interiors, which include corporate headquarters, tenant improvements, tech companies, firms and financial institutions. She maintains an impressive roster of corporate clients, including AST, Bank of America, Aetna Health Plans, First American Financial, Pacific Life, Union Bank and Western Digital Corporation.