LPA's Erik Ring on ABC7 Eyewitness News
LPA Associate Erik Ring is a nationally recognized expert in green buildings. During this feature story about the Anaheim Hilton Hotel, Ring discusses the benefits of white roofs with reporter Eileen Frere.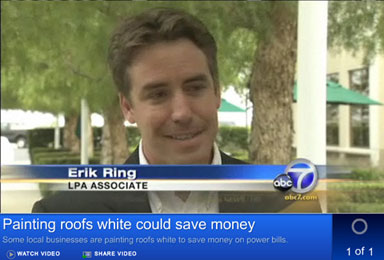 "White roofs can make a substantial difference," Ring explains. "Collectively, they can mean less smog formation, more energy efficient cities with less air conditioning and generally, a more cooler and comfortable environment."
Ring is an Associate at California-based design firm LPA Inc. A direct result of his leadership, LPA has completed 10 LEED certified projects and ranks nationally as the #11 Top Green Design Firm according to Engineering-News Record (2009).