The Business of Branding for Commercial Interiors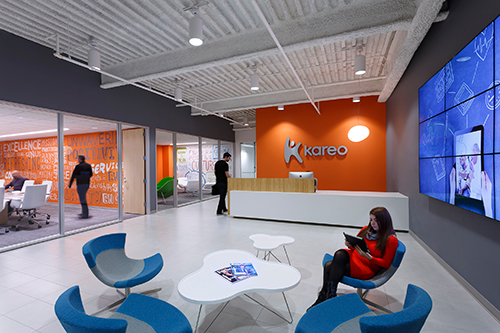 The digital age has revolutionized the ways that consumers research and find products and services they want. This makes it increasingly imperative for companies to share strong statements about who they are and how they can serve—both online and in the real world. Across industries, company leaders are seeking progressive design firms to help them develop and express their brand while morphing from traditional offices into open, modern work environments.
"The success of branding is measured by whether a space is memorable," relates Senior Designer Rick D'Amato, AIA, LEED AP BD+C. "Ideally, you want people to take with them a deeper understanding of the company."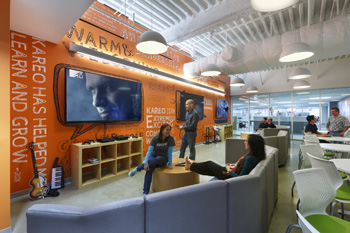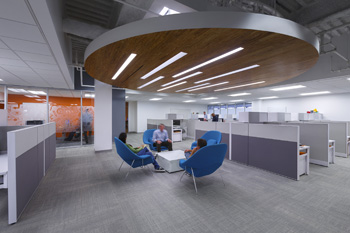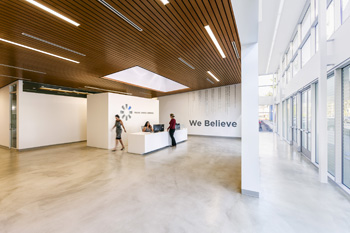 Not far from LPA's headquarters in Irvine, Calif., Kareo, a medical practice software and management company, started up in 2004 with less than 100 customers and has become one of Orange County's fastest growing enterprises, now with over 20,000 providers. Trying to keep up with their explosive growth, Kareo's offices evolved as a patchwork of ever-expanding spaces, but in all the hustle and bustle, Kareo never had an opportunity to convey their emerging brand through their office environment.
In designing Kareo's new headquarters, LPA was able to help the young company figure out what type of message they wanted to communicate throughout the new space to visitors, clients and their own staff.
As expressed through the company's new graphics and branding by Liquid, 'doodle art' is brought right into the new space, with "icons and drawings on the walls that create a bright and fun environment," notes Designer Karen Thomas, CID, LEED AP BD+C. "It's an opportunity for Kareo's engaged staff to live and breathe their brand image."
In addition, the office design went from more than 30% to just 5% private offices, and the new space was set up in neighborhoods connected by "streets" with shared amenity spaces featuring conference spaces, huddle rooms and a large break room with modular, easily reconfigurable furniture.
Meanwhile, just a few miles down the road at Pacific Dental Services (PDS), the company went from an all private office and enclosed workstation environment, to a 98% open collaborative work space with low benching and lots of cool amenities such as an indoor/outdoor patio space, a café and multifunctional training facilities, according to Thomas.
(Click Play below to learn how Pacific Dental Services' office transformation develops and expresses their brand as their company expands.)
"It's a really cool environment that now expresses who they are, and the charitable organizations they are involved in," explains Thomas.
Carrying the company's brand through the space, a white and blue color palette, representing clean teeth and clear water, lend a crisp, sharp look.
"It's a very happy kind of a place," she says. "It's a super open and uplifting space, and they absolutely love it."
Essentially, LPA was charged with helping PDS break down the silos and support a more efficient work flow. With the new design, "it's much more open and fluid. We can accomplish a lot more via collaboration, and bouncing ideas off of other people to keep the energy going," reports Chris Aguon, PDS Vice President of Real Estate.
Ultimately, in today's information-rich and competitive markets, organizational leaders are recognizing the value of branding to help their company stand out amongst competitors. Cutting edge design firms are being tasked with creating highly functioning, yet exciting environments where people can work more effectively. Closely linked to the business of branding, it has become increasingly important for companies to make sure that their work spaces make a strong statement about who they are, particularly in the quest to reach and retain clientele.
Patrick McClintock, IIDA, LEED AP BD+C and Associate at LPA Inc., leads the interior design efforts of LPA in Northern California. He has worked on more than 70 projects, which include corporate offices, community centers, K-12 schools and higher education facilities.