Engineering Healthy Schools with Platinum Results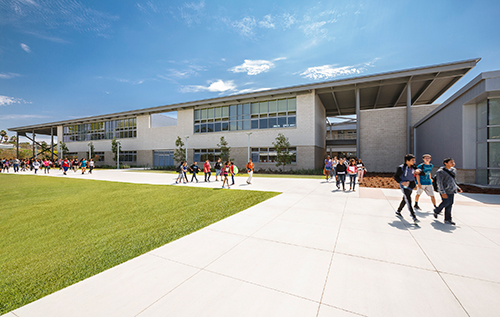 Recent studies by Lawrence Berkeley National Labs indicate that more than half of Calif. K-12 classrooms do not meet code-required ventilation rates, while properly ventilated classrooms reduce student absences associated with illness. Additional studies by the same researchers have demonstrated that occupants of under-ventilated spaces demonstrate impaired decision making performance.
It is clear that a well-designed classroom that includes proper ventilation, good acoustics, superior indoor air quality (IAQ) and abundant daylight has a positive impact on students' attendance, concentration and performance. At Montgomery Middle School, each classroom includes multiple systems and design elements that combine to provide a healthy, efficient and adaptable green school environment.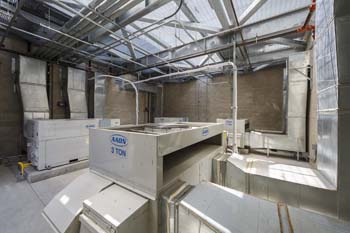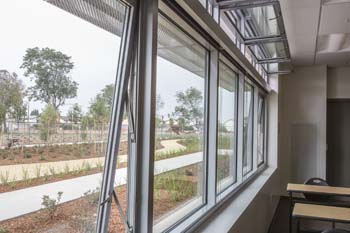 Operable windows located on opposing sides of each classroom allow teachers to naturally ventilate the space taking advantage of San Diego's mild climate. A variable air-volume (VAV) packaged unit works with the natural ventilation from operable windows in each classroom. The state-of-the-art VAV system includes a variable speed supply fan, variable speed compressor, integrated air-side economizer, gas furnace heating, and DDC controls—all of which are commonly used in larger, custom HVAC systems, but are rarely seen in a classroom unit. The individual classroom units allow for ease of operation and maintenance by the faculty and staff. Magnetic contacts in the operable windows communicate with the HVAC units, so that when windows are open, the unit operates in low-energy, minimum-speed condition.
Air distribution in the classroom use a thermal displacement ventilation (TDV) approach that provides for improved acoustics, thermal comfort and indoor air quality compared to conventional ceiling air delivery systems, since the TDV system provides lower supply air velocities with less mixing of indoor air pollutants. Additionally, the HVAC systems include high-efficiency MERV-13 filtration, outside air flow monitoring stations on each HVAC unit and CO2 monitors in each classroom. This allows the District to measure and maintain superior air quality in every classroom.
Click on the video below to take a tour of Montgomery's healthy classrooms and how they has impacted student learning.
LPA's sustainable design of HVAC systems at Montgomery Middle School, integrated closely with the architectural and interior design of the project, optimizes the indoor environmental qualities for student learning while providing a design that is 40% more efficient than Title-24 energy standards.
Erik Ring is a Principal and Mechanical Engineer at California-based LPA Inc. Ring ensures that all LPA projects exceed California's Title 24 requirements by at least 15 percent. He's a LEED Fellow, a LEED Faculty member for the U.S. Green Building Council and he's consulted for and designed more than 50 LEED certified projects.