Designing for Career Technical Education Programs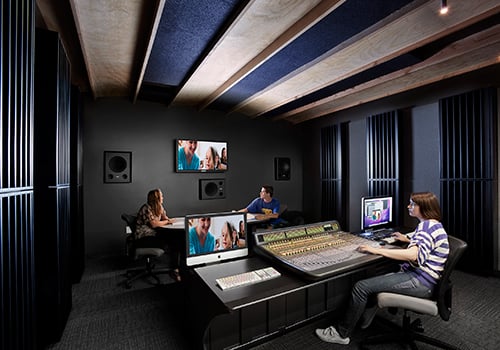 By LPA Blogger Kate Mraw
As evidenced by the increasing number of grant programs supporting Career Technical Education (CTE) facilities, there is a growing need for this particular brand of education, nationwide.
CTE environments support innovation, differentiated learning styles and the 4 C's: Critical thinking, Collaboration, Communication and Creativity. These programs respond to technology and workplace needs as they help students prepare for a successful future.
At South Tahoe High School in Lake Tahoe, Calif., for example, the CTE "Green" Construction and Transportation Academy is all about hands on learning. The academy exposes students to careers in green construction, auto mechanics and technology, through labs and spaces dedicated to construction technologies, CAD drafting, and graphic design, along with a 10-bay auto shop modeled after a commercial auto dealership. Here, students learn green automotive and transportation technologies including how to work on and repair hybrid vehicles.
At McBride High School in Long Beach, Calif., the campus is organized around "Main Street"—a linear quad lined with unique labs that define the street. Much like retail shops on a downtown city street, CTE labs are designed with large windows and open access to cultivate students' curiosities about college and career preparation and to bring learning outside the classroom. Students learn more about the work that their peers are accomplishing and the academic programs that they can join.
Our process in designing a CTE environment flows from research and exploration through to implementation—as we work with clients to deliver a space that will support and enrich their learning opportunities.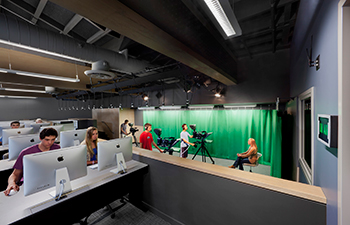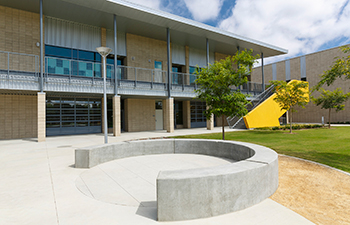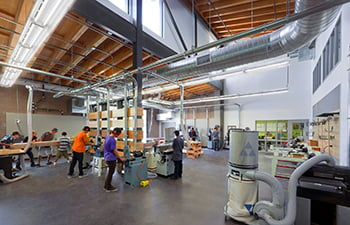 Design Begins with Exploration
Once a pathway has been determined, such as engineering, our first inspiration comes from the industry itself. What does an aerodynamic engineering lab look like? We, alongside our clients, visit real world businesses in the local industry to establish a relationship and learn firsthand what the future holds for students. For example, when designing McBride High School, field trips to Boeing's engineering labs and Cal State Long Beach's Medical Center were first on the agenda as we programmed the Engineering Academy and the Health Science and Medical pathways. At South Tahoe High School, the design team, teachers and students toured recording studios in Hollywood—gaining valuable insight into the workings of these specialized facilities—the results are inspiring.
Design Connects to the Community
The close relationship between CTE curriculum and the industry calls for a different approach to K-12 educational environments than a traditional high school. Spaces that allow for collaboration, both within the classroom clusters and for the campus, are important aspects of the design. Students will learn practical lessons through these community partnerships, so having space for industry members to mentor and participate in the education incorporates a level of activity that will resemble real world collaboration.
Design must be Future Proof
Agility is important to any 21st century educational environment, specifically with CTE programs. The spaces need to remain relevant to the changing technologies and programs used in the industry. Furniture and equipment specifications are central to the success of the program, and detail should not be overlooked. Just as the solutions must evolve with the program, it is imperative to implement sustainable design strategies, such as overhead access to utilities and flexible connections to the outdoors.
Lifelong learning begins with passion. CTE environments give students a more rigorous and relevant learning experience, connecting knowledge to life.
A version of this article was featured in the latest edition of LPA Studies: McBride High School. Author Kate Mraw is an Associate and Interior Designer at California-based LPA Inc. Her K-12 educational spaces encourage collaboration, experimentation and instruction. Mraw, a LEED Accredited Professional, received her Bachelor of Science in Interior Design from the University of Texas, Austin School of Architecture.