12 Tips for Bringing Sustainability Home this Season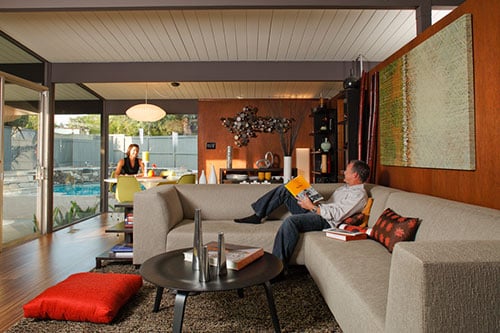 At the 2013 Solar Decathlon, which took place at Irvine, Calif.'s Great Park from Oct. 3-13, I was asked by the AIA Orange County Chapter to speak on sustainable design. While at the event, two things stood out for me: How many people were there on a Saturday afternoon to see the projects and how interested guests were to learn about the sustainable features of each student design project. It is estimated that there were 12,000 guests in attendance on Saturday, Oct. 12, and it seemed that there was a waiting line at every home's entry.
The projects were thoughtful and on the whole were great teaching moments for the public and the student docents who led visitors through their designs. My particular favorite was the entry from the Czech Republic, which used a simple elegant wood structure that was modified based on orientation to protect the enclosure and create indoor and outdoor spaces.
The Solar Decathlon guests' curiosity did not stop at the sustainable homes. Following my presentation, there were a number of questions about how, if possible, any of the sustainable features we apply in our commercial buildings could be applied to their homes. There are hundreds of web sites and books that deal with general ideas for saving energy and being more sustainable that are easily accessible, and I strongly recommend you make sure you are doing all of the basic conservation tasks first. What'd I'd like to share are 12 tips that will propel you in your journey for a more sustainable lifestyle:
Think about energy conservation first. The idea is to reduce your energy consumption first and be ruthless in that pursuit. As an example, adding roof and wall insulation or replacing existing lamps with new efficient lighting—CFL or LEDs which are becoming increasingly affordable—are typically a faster payback than the more glamorous things seen at trade shows.
Contact your local utility company and water agency to confirm any existing incentive programs in your area. Federal and State tax credits should be looked into, as well. While these programs rarely pay the entire cost for changes in efficiency, they can help you prioritize where to start.
It is estimated that 35% of most residential water use is for irrigation. Consider changing your home's landscape to native and drought tolerant materials. Your goal should be to eliminate any irrigation once the new planting material is established. For more step by step instructions, visit our post on planting sustainable landscapes at home.
If remodeling your home's landscape is too extreme an option, start by replacing your existing irrigation system with a smart controller. The technology is mainstream and is a simple change out. This simple installation can significantly reduce water use, maintain healthy planting, reduce fertilization needs and eliminate sprinkler runoff.
Implement some energy efficient appliances in your home. Efficient, EnergyStar-rated dishwashers use much less water than washing dishes by hand. Front load clothes washers use much less water than top loading machines.Wash your clothes on cold to save energy—and it's gentler on your clothes.
Lighting controls can be highly effective in reducing energy consumption. Install motion sensor fixtures for exterior lights. Simple wall switch occupancy sensors keep lights off in closets, pantries and garages when not in use.
Install dimming controls with LED lighting or fluorescent lamps to reduce lighting power to only what you need.
Rarely does a residence deal with solar orientation, however keeping solar radiation out of the home is more efficient than dealing with it once inside. Use an app on your phone to find north and see if your west, south and east exposures could benefit from some exterior shading.
Set up your programmable thermostat to reduce your HVAC usage during the daytime or periods when you are normally not home. If your heating and cooling system is more than a few years old, keep it tuned up and maintained.
For increased energy conservation when replacing heating and cooling systems, look for variable speed systems with high Seasonal Energy Efficiency Ratio (SEER) ratings.
With so many pools in Southern California, it is worth mentioning a couple of items that relate to pools. Reduce the amount of time you are running the pool filter based on seasonal changes—less time in the winter when you are using your pool less frequently. With the air getting crisp and seasons changing, now is a great time to make this simple adjustment. Consider retrofitting or installing a new variable speed pump that can be adjusted to meet your pool filtration demands as efficiently as possible.
Change out your chlorine system to saline base. The cost of the change is worth the reduced maintenance, and the elimination of chemicals from the pool is an added benefit.
Dan Heinfeld, FAIA, LEED AP BD+C and President of LPA Inc., leads the design direction of the firm and has done so for more than 30 years. As a pioneer in the sustainable building movement Heinfeld is passionate about sustainability and its importance in the process of informed design. More than 500 major design awards attest to LPA's commitment to design excellence. LPA provides services in architecture, sustainability, planning, interior design, landscape architecture, engineering, and graphics.