Solar Decathlon Introducing fluxHome™: Giving back with ZERO+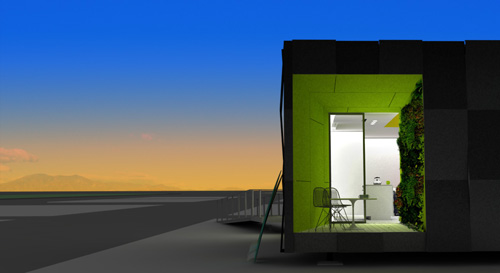 By Guest Blogger Christine Tanguay
We are now in our the second week of the 2013 Solar Decathlon competition, held this year in Irvine's Orange County Great Park (OGCP). In my previous post, we discussed how fluxHome™ was designed with the unique need for quick transportation and assembly. Our design group, Team USC, used LEGO's as our inspiration for the design and took from parts of traditional Southern California tract homes to create a living space unlike any other.
The design process included much more than considering the shape and transportation. Two other key constraints in the competition include energy efficiency, incorporating solar power and ultimately make the space accessible for family life. To achieve an end result we could be proud of, we needed to identify our end goals and collaborate as a team from the very beginning. Using an integrated design approach, we were able to achieve a design that is technologically and mechanically forward-thinking, yet is flexible and accessible to a family.
The following infographic explains a little bit about the integrated engineering that went into fluxHome™ to make it such an innovative and affordable form of sustainable living. It focuses on two areas that are extremely important in Southern California: solar harvesting and water conservation. The combined systems of fluxHome™ are designed to exceed the tenets of being "Net Zero" and introduce a new idea of "ZERO+" to promote systems that go beyond energy efficiency and include all aspects of the house from construction through to the family that will live in and operate fluxHome™.
Christine Tanguay, LEED AP BD+C, is a Technical Designer for integrated sustainable design firm, LPA Inc., and specializes in K-12 facilities.