5 Tips for Planting Smart with Sustainable Landscapes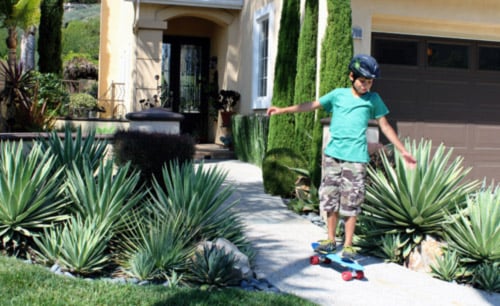 By Guest Blogger Rick Musto
LPA's sustainable landscape designs have always been the perfect complement to our buildings and an essential component of our integrated design approach. I've been inspired by projects such as CSU San Bernardino College of Education's Demonstration Desert Garden, which integrates drought tolerant planting materials with creative hardscapes. The principles used for these large projects can be easily applied to our own gardens at home, and I'm here to share my experience to help you get started.
Like most developments in California, we live on a long street lined with a seemingly endless row of garage doors. I began my journey by challenging the convention of the landscape aesthetic established at my South Orange County development, where homes are dressed in Queen Palms, Bird of Paradise and heavily irrigated lawns. I began experimenting with a bold mix of drought tolerant plants, like agaves, aloes, aeonium and echiverias—commonly known as succulents. What began as a small personal hobby has evolved over the last ten years into what might be considered an obsession.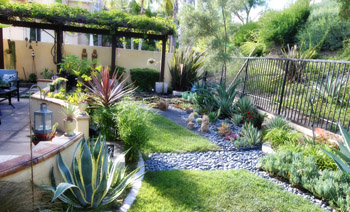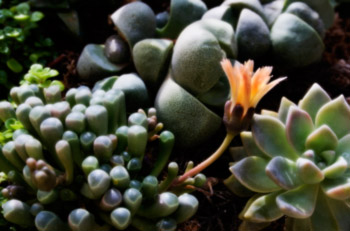 Before you start, know that investing in succulents is a bit like owning rabbits. One of the great characteristics of succulents is their ease of propagation. Once I started my collection, individual plants began to multiply, and in no time I was expanding my planting areas while reducing my thirsty lawn.
Since many varieties are virtually indestructible you don't need to have a green thumb to have success. There are appropriate varieties for every condition and sun exposure. Over the years with considerable trial and error, I have identified all the microclimates within my small suburban property. I now have a pretty good read on which plants do best in various locations.
Here are some quick and simple tips to bring sustainable landscape architecture to your home:
As with anything you plant, pay attention to the recommended sun exposures. Understand where the sun is in relation to your property and define zones ranging from sunniest to shadiest. This will guide your decisions on what to plant and where. The biggest misconception of succulents is that they need full sun. In fact, many varieties are best in shade or very limited sun but can be very adaptable to most exposures. Another option to consider is planting indoors, as many varieties do well in bright indoor spaces.
The common denominator with most succulents is that they require well-drained soil. This doesn't mean you have to buy costly "Cactus Mix" soil, but you should not plot your expensive new plants in the heavy clay soils common to Orange County. I like to mix in a healthy quantity of perlite to most planting mixes to improve drainage.
Since many succulents can be planted in very shallow containers, just about anything can be considered as a planter. My kids have repurposed plastic water bottles into mini terrariums; I transformed an old Spanish bistro table and chair set into an art piece by covering it with plants. Or if you're feeling especially creative, many succulents are perfect choices for vertical gardens.
Another sustainable feature to consider for your garden is to break up large expanses of pavement, patios or walkways for smaller concrete pavers or stepping stones. With planting spaced between pavers, water runoff is absorbed into the landscape, in lieu of flowing into storm drains and ultimately to the ocean. Many succulent varieties will thrive within the narrow spaces between the pavers.
To reduce energy use, integrate low voltage lighting into your space. Replace your high wattage halogen lights with LED lights, and get more bang out of your low voltage landscape system. Most typical halogen lamps are 20 to 50 watts each. Conversely, the typical low voltage transformer is anywhere from 200 to 500 watts. By using LED lamps, a 15-watt fixture gives you the equivalent illumination of a 50-watt halogen light.
*Bonus* Be fruitful and multiply. Propagation can be as easy as cutting off a few small stems—or "pups"—from the "mother" plant to create small potted gardens. To achieve this, simply drop the cutting into well-drained soil, and off you go.
Drought tolerant plants have exploded in popularity over the last few years—a plus for at-home landscape and gardening enthusiasts. Home Depot has great prices and a selection that has consistently improved in the past few years. Some Southern California establishments that have excellent choices and inspirational displays include Rogers Gardens in Corona Del Mar, Stevens Gardens in San Juan Capistrano, the California Cactus Center in Pasadena and the Grigsby Cactus Gardens in Vista.
Sustainable drought tolerant gardens that include California native plants are the right choice for Southern California. We live in a desert environment, and with water becoming an increasingly rare commodity, we can find fun, stylish ways to step up and plant smart.
Rick Musto is an Associate and Architect with California-based LPA Inc. He is a LEED Accredited Professional who has worked on more than 60 K-12 schools.