Corporate Branding Strategy: Secrets to Success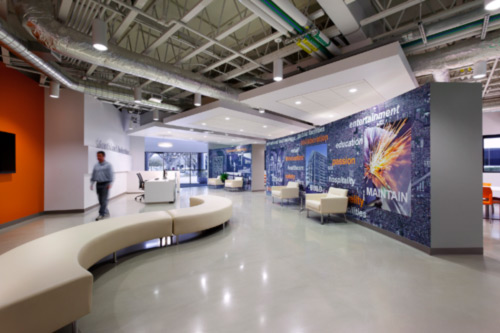 As an ever-evolving message, a strong corporate branding strategy hearkens back to an organization's early beginnings, while communicating their current, unique niche in the marketplace and where they are heading.
Ironically, not all the folks within companies are fully aware of their origins, so it's not uncommon for LPA designers to don their detective hats and do a little digging.
"So many of the organizations we work with have such interesting histories and sometimes that institutional knowledge seems to be tucked away in an archive and the story gets lost," remarks LPA Associate Patrick McClintock, NCIDQ, LEED AP BD+C. "These stories, people and places are inspiring; directly contribute to the culture of the company; and influence its most valuable asset, its people. When we start our design process, we leave no stone unturned. We want to know how and why the company started, what they are doing currently and how they want to redefine the future of their marketplace."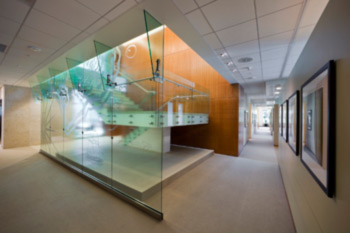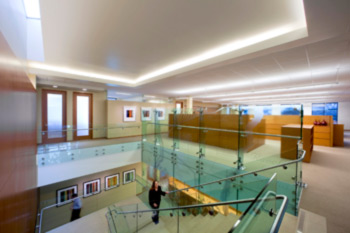 A great example of sharing an amazing history and creatively expressing it through an architectural design recently occurred with the Watson Land Company's new LEED Platinum headquarters.
The year was 1784 when the King of Spain issued the first piece of land to a private citizen in California — a 75,000-acre grant that included all of Los Angeles harbor — to Juan Jose Dominguez, a former Spanish soldier who came to California with the Portola expedition and later with Father Juniperro Serra. Consequently, LPA decided to utilize an image of the actual land grant map and had it etched on a 20-foot glass wall, which clads a two-story open interconnecting staircase at Watson's corporate headquarters in Carson, Calif.
"The graphic map shares one of the most significant historical documents in the company with everyone who enters the space, but it's very subtly done. In fact, as you traverse the stairs, you discover names and places, as depicted in 1784, on the glass wall that has relevance to the current day," explains McClintock.
Another important aspect of branding is the extent to which it fosters a relationship between the company and its employees. People have a natural yearning to contribute and want to see the physical impact of their influences on the organization. "We utilize technology to reflect the real time nature of that innovate spirit," says McClintock.
In addition, as technology has broken down the barriers of the traditional 8-to-5 workspace, "the workplace of the future has to become a destination that reflects a unique identity. The physical space must represent the organization, but more importantly, needs to facilitate a lifestyle-enhanced environment that is surrounded by expressive elements that bolster the creativity of an individual and the group," he adds.
Bringing this to light for Falken Tire, LPA tapped into the company's vibrant, on-the-edge automotive vibe through the use of glass, metal and carbon fiber that are expressive of the company's commitment to the advancement of modern motorsports in their Rancho Cucamonga, Calif.-based headquarters. As a result, the young, hip personality of this Japanese-originated "not your grandpa's radial tire" type of a company is duly expressed.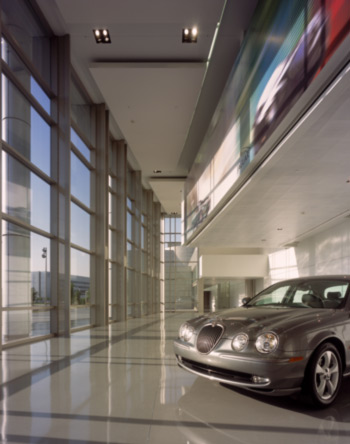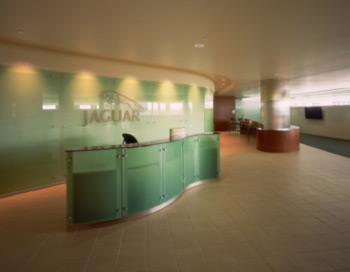 Similarly, after the Ford Motor Company started its high-end Premier Automotive Group a number of years ago, LPA was tasked with designing a corporate space that simultaneously housed the Lincoln, Mercury, Aston Martin, Jaguar, Land Rover and Volvo brands all under one roof. LPA cleverly assigned each brand its own floor which was then detailed, proportioned and styled through colors, graphics, lighting and materials to express that individual brand identity, starting with its own elevator, for example the Jaguar elevator, which exclusively travels to the Jaguar floor.
"Essentially, your brand experience begins in the elevator, everything you see touch feel and smell is all Jaguar. Good branding is a full sensory experience, where everything that is significant to that organization is conveyed though shape, function and materiality," explains McClintock.
"Every company says that they are collaborative and innovative, but how do you perceive that in a space?" he asks. "You need to see it physically in the environment, not just state it on the wall."
Southland Industries decided to use its LPA designed office space in Garden Grove, Calif., as a showpiece for the engineered mechanical systems that the firm designs. So not only are systems, like chilled beams and fan powered induction units prominently displayed, but Southland actively tracks their energy usage and is able to use these exhibits to convey an intimate understanding of their systems in action.
"This is much more meaningful than a picture on the wall," notes McClintock.
Offering one final point, McClintock explains that just as great organizations are not static, the visual messaging needs to resonate the evolving nature of the company. For example, the imagery, artwork and projections need to periodically be refreshed. "The timeline of an organization is a constant, and we have to plan for that so that the design doesn't have a date stamp on it. Fortunately, a rich combination of unique organizational identity, great ideas and advancing technology can easily help with that."
Patrick McClintock, NCIDQ, LEED AP BD+C and Associate at LPA Inc., leads the interior design efforts of LPA in Northern California. He has worked on more than 70 projects, which include corporate offices, community centers, K-12 schools and higher education facilities.