A Look at the Shifting Demands of Office Tenants
Fri, Feb 23, 2018 LPA Staff Patrick McClintock, Keith Hempel, Corporate Design, Towers @ 2nd, Ten Almaden, Design for Tech, High Moon Studios, Mission Towers, Bethany Carlson
On a recent tour of game designer High Moon Studio's new offices, chief executive Peter Della Penna led a visitor into a vast room where the company's designers and programmers work in clusters of desks and mobile white boards.
"I wanted to be able to walk out of my office and see every employee," Della Penna says.
His goal for the 30,000-square-foot office in an industrial complex in Carlsbad, California, was to eliminate any sense of isolation. There are no walls or cubicles.
"We didn't want people to be around corners," he says. "What was most important was removing any barriers to connections."
Companies like High Moon are not looking at office space the same way as tenants of, say, two years ago. There has been a fundamental shift in the goals and demands of expanding young companies, as they aspire to create offices that represent their core values. Cool graphics and volleyball courts won't cut it anymore.
"Tenants have different interests," says Patrick McClintock, managing principal of LPA's San Jose office. "There has been a big return to human-centric design and a sense of authenticity."
In a competitive market, many of the popular amenities of a few years ago are no longer effective in wooing tenants. Efficiency, flexibility and collaboration are the primary goals, not game areas, many company executives say. More than ever, companies want their offices to represent their culture and spirit, and to help facilitate the long-term growth and well-being of their staff.
"They want the office to reflect who they are," says Bethany Carlson, a project designer in LPA's San Diego office.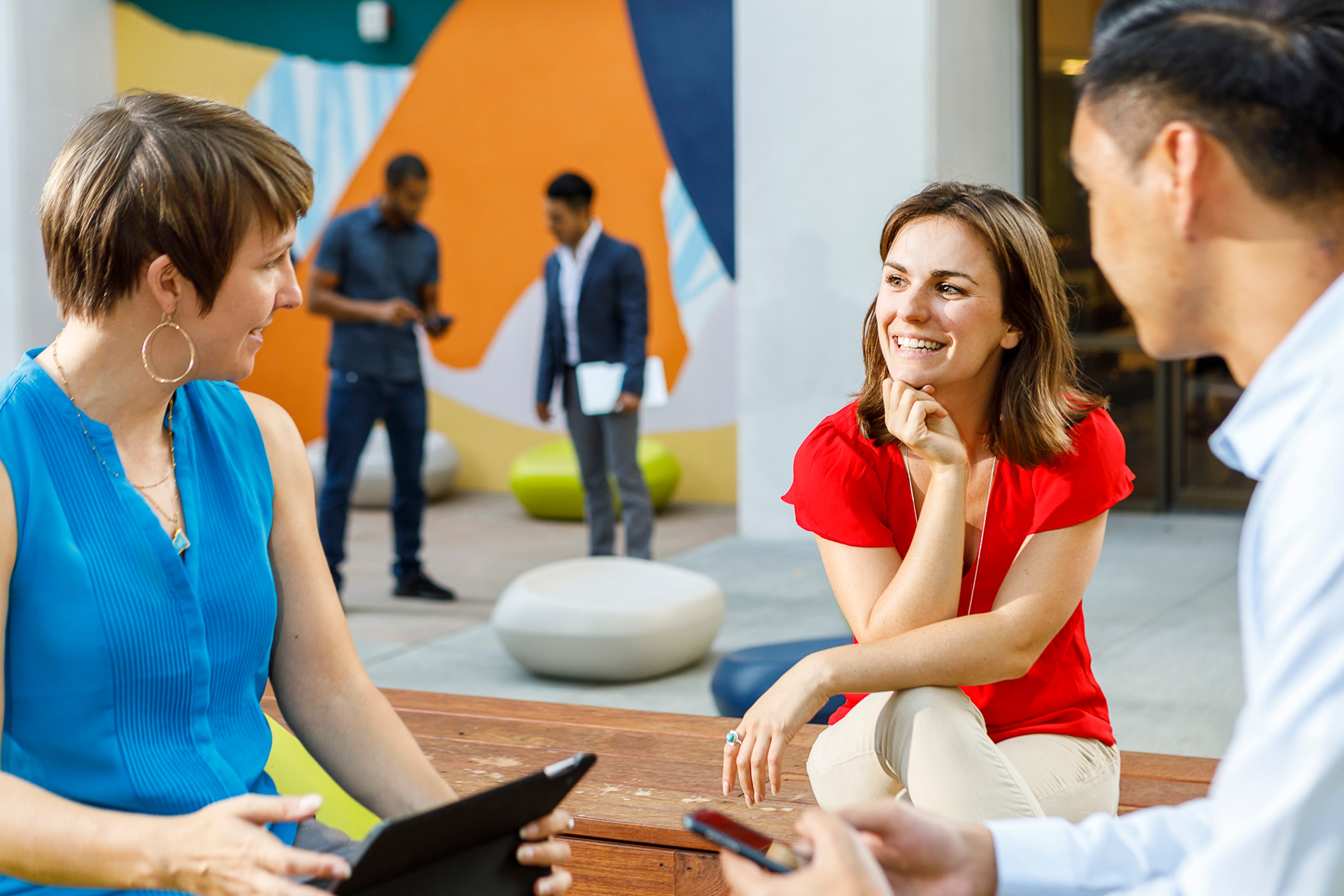 Next-Gen Employees
The basic goal to "obtain and retain" employees is still crucial, but it has morphed into something different. Companies want their offices to reflect a commitment to the staff's personal development, an environment that makes every employee feel part of a larger goal. As a result, tenants are asking for fewer private offices and more open designs. They want layouts that make employees aware they can access executives, share ideas and brainstorm projects.
Modern executives take teamwork and the opportunities to encourage creative sparks very seriously. That often translates to more small, intimate areas with power, connectivity and writable walls. Break rooms are big, expansive areas to accommodate large staff gatherings and meals, not a room stuck in the corner. "It's really about bringing people together in different ways," McClintock says.
Many executives no longer want their company isolated on a remote campus; they want to know their corporate neighbors. They like the idea of employees running into staffers of other companies, which might fuel ideas and lead to future projects. "The question I hear more from tenants is not, 'what is included?', it's, 'who are the other tenants?'" McClintock says.
Instead of creating amenity spaces for tenants, building owners are increasingly developing amenities shared by the entire building. Conference spaces, presentation areas and cafes help bring together employees of diverse companies--and free up space for tenants to use in different ways.
"A lot of the tenant amenities focus on what the owner can provide that tenants can't provide or afford to provide for themselves," says Keith Hempel, associate principal of LPA's Irvine office. Lobbies have been repurposed from entrance halls into small welcome areas; the space can be used for more tenant-focused amenities.
"The days of the big grand lobbies that were commonplace in the 80s and 90s are over," Hempel says. "It's really taking the best advantage of underutilized space."
For Towers @ 2nd, a two-tower office complex built in downtown San Jose in the 70s, LPA reinvigorated a sunken courtyard between the buildings into an active area for people to gather and work. A fitness and wellness center was added, as well as a game room with classic console games, an indoor-outdoor VIP lounge and plug-in work areas around the courtyard. A transit center was included for staffers to store and repair their bicycles and skateboards.
"Anything that speaks to the balanced lifestyle carries great resonance," Hempel says.
The project was a hit. In 2016, before the renovation was complete, workspace company WeWork leased 75,000-square-feet in the renovated center, its first venture in Silicon Valley.
A Delicate Balance
The idea of the work-life balance has changed in recent years. The traditional idea of balance has been "replaced by the concept of work-life integration," CBRE found in its 2017 Occupier Survey. Younger employees want their workplace to reflect their attitudes and lifestyle, ranging from healthy food choices to access to nature. Seventy-six percent of the employer respondents to CBRE said they were operating some type of employee wellness program. The availability of green space, rest areas and wellness facilities are increasingly important to younger workers, CBRE's research found.
The connection to lifestyle can take many forms. Doggy daycare centers and bike storage can link the workplace with the employees' daily routine. In San Jose, the key element of LPA's renovation of the 17-story 10 Almaden was the conversion of an underutilized deck into a comfortable terrace with plants, BBQ area and fire pit, providing an outdoor extension of the office space. The building also added a wellness center and state-of-the-art conference center, open to all tenants.
Finding that special amenity to make an office functional and special takes research and flexibility. For Mission Towers, a two-tower renovation project in Santa Clara, one of the building's special elements is a space converted into a plug-and-play area for bands to practice. Several companies in the building have company bands.
In addition to researching the goals and culture of the company, LPA's designers typically spend time monitoring the staffers' interactions. "We observe how people actually work, not how they think they work," McClintock says. "A lot of time, it is different than what they think."
These days, flexibility is essential, as companies prepare for the inevitable changes that happen to a business. The space used by accounting may need to turn into the IT department. Conference rooms must perform multiple tasks. There are already signs that millennials are changing their priorities, as they grow older. Planning for today's staff may not be appropriate for tomorrow's team. "A lot of tenants want to be future proof," Carlson says. "We're really thinking about how teams gather, how they organically change over time as the project needs change."
High Moon's World
In High Moon's office, there is no receptionist. Instead, visitors are buzzed through a locked closed door to a small area with a tall counter, stools and a couple of keg spouts. "At the end of the day, people tend to hang here," Della Penna says. There is a large break room, where the company regularly hosts lunches for the entire staff.
"Socialization is a big part of the culture," Della Penna says. "We have creative people. They need to make work a fun, entertaining experience."
The centerpiece of the office is a co-lab, where staffers gather every day to test games and discuss issues. High-backed booths, couches and a counter are arrayed around a row of monitors and a giant writeable wall. A large barn door opens to a conference room, making it easier to expand the space and include visitors.
In the main room, where almost all the 126 employees work, there are separate lighting zones—bright for the programmers; dark for the designers. Raised I-beams, which look like steel girders, run through the room, providing power and connectivity to the mobile work stations. Teams can be easily reconfigured and desks rearranged. A stage and screen area at the center of the room allows for impromptu staff meetings and discussions.
"Everything is incredibly efficient," Della Penna says. And the design is focused on collaboration and communication. "Part of the strategy is we need a team that trusts each other and talks to each other," he says.
This story originally appeared in the first edition of Catalyst, a quarterly publication that takes a deep dive into the new ideas, industry leaders and cutting-edge initiatives changing lives by design.