5 Things to Consider When Renovating Performing Arts Centers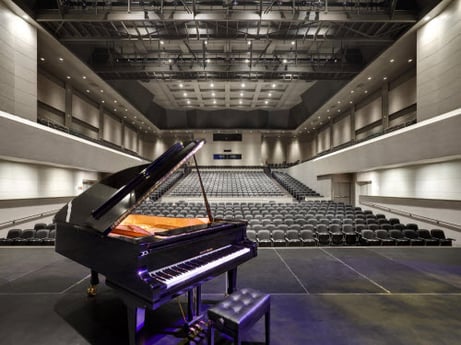 Given the budget constraints being placed on academic facilities today, when an existing performance space is scheduled for a renovation on a campus it is an opportunity to demonstrate the value of the arts to students and for the extended community. Similar to public buildings in a city, a performing arts center on a campus reinforces the power of community. As a result, the facility itself needs to become a landmark on campus demonstrating the support of the arts.
At Polytechnic High School in Long Beach, California, LPA is working with the district and a team of consultants to enhance their existing 34,000-square-foot auditorium building with a seismic retrofit with accessibility, fire and life safety upgrades. Originally built in 1930, the building was reconstructed in 1934 in an Art Deco style after the 1933 Long Beach earthquake. Working with a historical consultant, modernizations to the narrow balcony and main house floor along with other upgrades will improve supervision of the space, acoustics properties and audience sight lines. New seating will be provided at the floor of the main house and the existing 1930s seats will be refurbished and located at the stadium seating section of the house.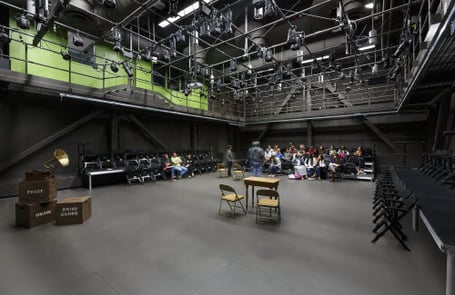 We have found that renovating existing theaters and repurposing them to fit today's performing needs can be an effective way to meet both budget and program needs. Here are some elements to consider when renovating a performing arts center:
Use an integrated design approach. There are countless factors to designing and building a theater, so getting key players together early in the design process is crucial for success. By gathering a team of designers, engineers, contractors and end users, you can identify the goals and priorities up front, resulting in cost and time savings in the end. For example, acoustics—a central component to theaters—requires all disciplines to play a role and collaborate:
+ Architects and interior designers consider finish selections and volume of space.
+ Mechanical engineers cover sound isolation and HVAC delivery method.
+ Structural engineers lead the sound isolation of partitions and floors and seismic upgrades that involve replacement of ceilings and walls.
+ Electrical engineers consider how to impact acoustics through sound and lighting control locations, fire alarms, paging/intercom systems and more.
Recognize the building's inherent gifts. Today's requirements for a theater are much more complex than theaters past. From lighting to seating, acoustics to accessibility, balancing the needs of today with important historical elements can set a performing arts center apart. From historical architectural features to interesting seating arrangements, keep an eye out for elements that exist within a building before demolishing a key component. Don't eliminate the eccentricities; instead balance them with the needs of modern theater.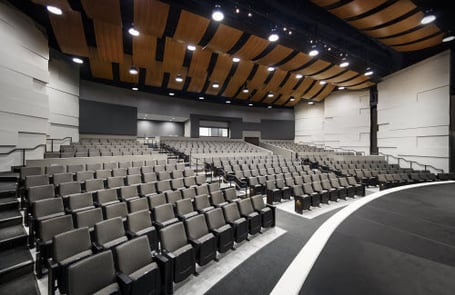 Identify the function of the space. Some schools may offer the space to the entire community, while others have a smaller facility that is specific to one extracurricular program. By understanding how the space will be used and by whom, it's easier to sift through the wide variety of options for acoustical, lighting and A/V.
Upgrade for accessibility. Connecting spaces with multiple levels in older buildings can be challenging. Accessibility compliance standards have evolved to support wheel chair lifts, ramps and elevators providing equal access to the stage and multiple locations for seating. Strike a balance between adhering to these requirements, while maintaining the capacity for seating. Understand any code changes related to aisle and row width, exiting and fire and life safety, so that you accommodate these changes without completely altering the number of seats available for guests.
Be mindful of sight lines. One of the most important parts of the guest experience is being able to easily see the stage. Maintaining sight lines—providing unobstructed views of the stage from wherever a guest is seated—is a challenging but necessary step in the design process. When working on an existing facility, it's important to take existing and necessary structural elements into account. Identify where those structural elements are in the space and adjust accordingly.
As designers, it's exciting to have seen a shift in prioritizing performing arts centers. A renovated facility can bring new life to performance spaces while providing professional opportunities and experiences for all students on campus.
A version of this story originally appeared in LPA Studies: Performing Arts Centers. Kristen van Elden, CID / LEED AP ID+C, is a Project Coordinator in LPA's Education Group focusing on K-12 school design.