3 Steps for Sustainable Landscape Architecture
Water is a scarce resource, and it's especially relevant in California. However, a well-designed, water-efficient landscape design should always be a consideration regardless of location. A water-conscious, sustainable landscape is easily achievable, and the options for native and drought tolerant plants far exceed cacti and succulents. Here are three tips that will help you in creating a sustainable landscape that saves water and improves the aesthetics of your property:
Select the Proper Plants
People have a preconceived notion that drought tolerant landscapes can't be aesthetically pleasing, but that couldn't be further from the truth. Many ornamentals—plants grown for decorative purposes—that are common in the average landscape are actually drought tolerant. Many native plants have annual displays of color and well-composed grasses have really unique features. We have found that the use of natives and drought tolerant plants can create a rich landscape that ties a project to its place and natural surroundings.
Be Water Wise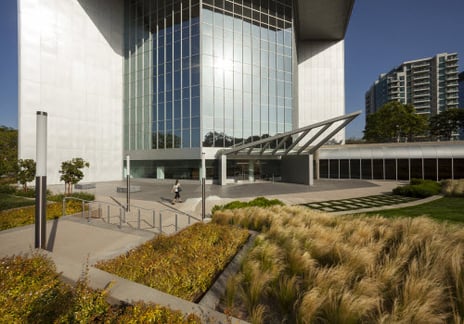 With water scarcity, rates and fines are increasing and codes are going to become even stricter. Ask yourself if you really need a vast lawn and consider the benefits of keeping water consumption low. Use resources wisely and design your landscape with strategically applied water.
At the Bixby Land Company's McDurmott office re-imaging, we prioritized sustainable design options for the landscape as a way to save water but to also update the curb appeal of the project. According to Project Manager Gus Puertas, ASLA, "The entire team took a look at the landscape and identified what improvements could be made. We have wiped out all the turf in front of the building completely. In its place, we have brought in a diverse water-saving plant palette and the owner is totally on board with it." Key to the exterior design is the creation of a new outdoor space or "retreat" for tenants to rest or work outdoors among the soothing landscape.
Use Efficient Irrigation
From drip irrigation to rainwater harvesting and other methods, it's important to use efficient irrigation systems. For instance, smart irrigation controllers use weather monitoring satellites and moisture sensors to evaluate the amount of water being delivered to the landscape, helping you conserve when your plants are satisfied.
Boerne Champion High School in San Antonio was designed with an innovative water harvesting network that can hold nearly 250,000 gallons of water. The surrounding environment, which includes nature conservancy Cibolo River, made water quality and efficiency a high priority for designers and the district. The self-cleaning water harvesting system is a part of the entire campus' irrigation—not just decorative plants but also soccer, football and baseball fields. The project, which earned the Caudill Award and Texas Environmental Award, will save the school district an estimated 90 percent on their water bill.
The options for water-conscious landscape are endless. To do more with less, retain the services of a landscape architect who can program your landscape elements to save water and create something wonderful that provides interest, form and color throughout the year.
A version of this story originally appeared in LPA Studies: Joeris General Contractors' Headquarters. Richard Beinvenu, ASLA / LEED AP BD+C is an Associate with LPA and Design Director for Landscape Architecture, his responsibilities focus on site and landscape design for projects across all market segments.